Home
Celebrate NAIDOC Week with the City of Wanneroo
Published Thursday, 29th June 2023
NAIDOC Week (2-9 July) is a time for all Australians to come together to celebrate the rich history, diverse cultures and achievements of Aboriginal and Torres Strait Islander Peoples.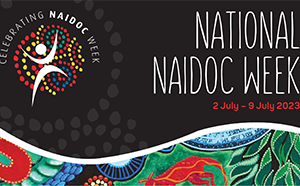 This year's theme is 'For our Elders', in recognition of the important and prominent role that Elders have played, and continue to play, in communities and families across every generation.
The City of Wanneroo is celebrating NAIDOC Week 2023 with a variety of activities, including a yarning workshop with local Cultural Consultant Derek Nannup, children's museum activities, Create a Set of Story Stones workshops at two of our libraries and an exhibition featuring textile artworks by the Kookaburra Club.
On Friday 30 June, the City will host a flag raising ceremony in the Jacaranda Amphitheatre outside the Civic Centre, as a symbol of respect and appreciation for the City's local Aboriginal heritage, culture and community.
Derek Nannup will MC, with a Welcome to Country by Oriel Green, speech from Deputy Chair of the City's Aboriginal and Torres Strait Islander Reference Group Ni Kadadjiny Koort, Judith Birchall and a Noongar musical performance by Aboriginal students from Goodstart Early Learning Centre.
Mayor Linda Aitken said this year's NAIDOC Week theme celebrates those who have driven positive change in our community over generations.
"We at the City are proud of our Whadjuk Noongar heritage and recognise our local Elders are cultural knowledge holders, trailblazers, nurturers, advocates, teachers, survivors and leaders," she said.
"Together this NAIDOC Week, we can celebrate the contributions of Aboriginal and Torres Strait Islander peoples to Australia, and actively learn more about their history, culture and diversity.
"The City's Reconciliation Action Plan 2023-2025 is a guiding document, but its principles – relationships, respect and opportunity – must live beyond words on a page.
"These words must be embraced by the City and our community for us to come together and move forward in mutual respect, recognition and understanding."
Find out more about how the City is celebrating NAIDOC Week and how you can get involved at NAIDOC Week 2023.
More articles in the news archive.