Home
Wanneroo pound pups shine in ABC dog-umentary
Published Tuesday, 4th July 2023
Some four-legged stars of the City will make their screen debut tonight in ABC TV + iview's new series, New Leash on Life!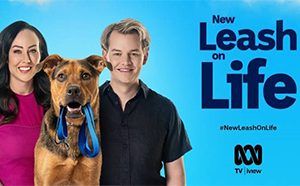 The show follows comedian Joel Creasey and leading dog behaviourist Laura V as they work with dogs from pounds across Perth, including our very own Animal Care Centre (ACC) in Ashby. Over six heart-warming episodes, Joel and Laura work towards a mutual rescue, pairing each dog with a family in need of a hound.
Stream the show to go behind the scenes of the Wanneroo ACC with Animal Care Officers Kristy and Ash, and get behind the important work of our Rangers and Animal Care Centre staff.
Don't miss the first episode tonight, Tuesday 4 July at 8pm on ABC TV or streaming on ABC iview.
Can't wait? Watch the trailer now!
More articles in the news archive.