Home
Local primary school adopts Montrose Park
Published Friday, 25th August 2023
Students at Roseworth Primary School have their own pocket of bushland to care for after formally adopting Montrose Park in Girrawheen.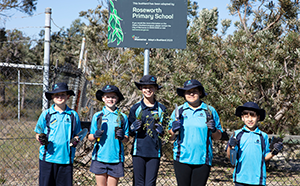 Through the City's Adopt a Bushland program, students learn about the importance of protecting bushland close to their school.
As part of the program, they carry out planting and revegetation, remove litter and take part in Noongar learning. Students also go on guided walks led by the City's Trees and Conservation team.
Mayor Linda Aitken said the program teaches our youngest residents about the importance of protecting the environment.
"By adopting a bushland, school communities learn to care for their local environment, discover local wildlife and help preserve the bushland for future generations to enjoy," she said.
"The Adopt a Bushland program is part of the City's focus on conservation and ensuring minimal impact to our bushlands, wetlands and coastlines."
Roseworth Primary School Science Teacher Anna Keunen said her Year 5/6 science class were working hard to improve the natural biodiversity of their adopted reserve.
"The Adopt a Bushland program fits well into our biological science unit and students learn about different parts of the plant, sustainability, community outreach, as well as Noongar naming," she said.
"The program helps our students develop a sense of pride and ownership over Montrose Park and is a great way for the school to give back to the community."
Other local schools, including Alkimos, Tapping and Pearsall primary schools and Butler College have also adopted a bushland through the program.
The City also works closely with other schools on one-off events such as guided walks, planting days and bushcare activities. To find out more, head to our events page.
More articles in the news archive.