Home
City reveals site of Alkimos aquatic and recreation centre
Published Thursday, 24th August 2023
The City is one step closer to breaking ground on the Alkimos aquatic and recreation centre, following the acquisition of a 3.5 hectare site in the Alkimos Town Centre.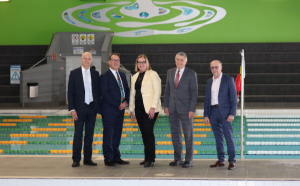 The City signed land acquisition documents with Development WA for the site, which is located just 50 metres from the future METRONET Alkimos train and bus stations.
Wanneroo Mayor Linda Aitken said the procurement of the site was a fantastic step forward for the project.
"It's great to have successfully secured a site that will ensure the Alkimos aquatic and recreation centre integrates well with the surrounding environment and provides convenient access and connections to public transport," she said.
"The detailed design has recently started, and over the next 12 months we'll be able to share a comprehensive plan for the facility, which is being designed to be flexible, adaptable, and to accommodate the diverse needs of our growing community."
Once completed, the detailed design will provide a more accurate picture of project costs and timelines, with construction currently scheduled to start in late-2024.
"We are grateful to have received $30 million from the Federal Government, $10 million from the State Government and $12.6 million through the Alkimos-Eglinton Developer Contribution Plan to help us deliver this facility for our growing community," Mayor Aitken said.
DevelopmentWA CEO Dean Mudford said it was exciting to embark on a journey to create a state-of the art aquatic and recreation centre that will serve as a hub for health, fitness and community engagement within Alkimos Central.
"DevelopmentWA is pleased to be working with the City as a key partner in the evolution of Alkimos Central, a new city centre that will provide a thriving community, a vibrant social place and transport hub, together with retail, employment and community infrastructure for the 60,000 residents of the Alkimos-Eglinton region," he said.
"Together with the City, we are creating an outstanding facility that will serve the Alkimos community for years to come and we can't wait to see this vision come to life!"
To find out more about the Alkimos aquatic and recreation centre project, visit wanneroo.wa.gov.au/AARC.
More articles in the news archive.