Home
Have your say on a Statewide register for cats and dogs
Published Thursday, 24th August 2023
The State Government is inviting local governments, community members, animal rehoming services, vet practices and other stakeholders to have their say on the Dog Amendment (Stop Puppy Farming) Act 2021 reforms.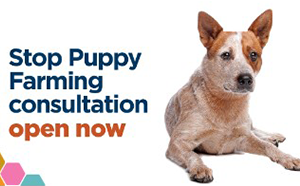 The draft regulations are the next stage in implementing the reforms, which include rolling out a centralised registration system for cats and dogs.
The centralised register aims to bring all local government pet registration data together for the first time, providing a more convenient system for pet owners and local governments.
The City encourages the community to provide their feedback by completing the online surveys on the Department of Local Government, Sport and Cultural Industries' website.
Feedback is also invited on the sterilisation of dogs, pet shops, the supply of dogs by refuges or dog management facilities to approved pet shops, approval to breed, microchipping and dog and cat registrations.
The consultation closes on 17 November 2023.
Remember, your cat or dog must be registered with the City by law, with annual, three-yearly and lifetime registration available.
Registration renewals are due 31 October each year so don't forget to renew online.
More articles in the news archive.