Home
Exhibition captures remarkable stories of ordinary Australians
Published Monday, 28th August 2023
A Portrait of Australia: Stories through the lens of Australian Geographic captures the extraordinary stories of everyday Australians, celebrating the bush, the outback, the coast and the people who live there.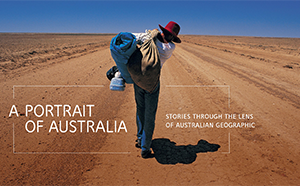 The travelling exhibition is now proudly on display at Wanneroo Regional Gallery, developed by the National Museum of Australia in collaboration with Australian Geographic.
Mayor Linda Aitken said the City of Wanneroo was honoured to host such fantastic photography and encouraged the community to visit the free exhibition.
"Featuring stunning photographic images from the Australian Geographic archive, this exhibition celebrates the bush, outback and coast, and the people who live there," she said.
"It will transport you to some of the most rugged and remote parts of the country where you will discover the remarkable stories of ordinary Australians."
Perth-based travel photographer and teacher Seng Mah will host workshops and seminars to tie into the exhibition.
"A Portrait of Australia is a time capsule of where Australia is right now and anyone attending the exhibition will gain a better, deeper understanding of the multifaceted, multicultural and variety of life in Australia, from the iconic to perhaps the not so iconic," he said.
"The exhibition is going to be eye opening, touch the heart and enrich the soul!"
National Museum director Dr Mathew Trinca said partnering with Australian Geographic to tell authentic Australian stories was a marvellous opportunity.
"Using the very finest storytelling methods, we're taking Australian stories to venues around the country by combining the National Museum's exhibition and curatorial expertise with Australian Geographic's 30 years of unparalleled photographic coverage of Australia's land, nature and people," he said.
"This beautifully presented exhibition transforms words and pictures into a truly immersive experience."
A Portrait of Australia: Stories through the lens of Australian Geographic
30 August to 28 October, Wednesday to Saturday, 10am to 4pm
Wanneroo Regional Gallery, 3 Rocca Way, Wanneroo
Seng Mah's workshops and seminars
Saturday 9 September, 10.30am to 12pm – Colour, Composition and Creativity: Exploring the Joys of Photography seminar.
Saturday 23 September, 10.30am to 12.30pm – Depth of Field, Depth of Feeling workshop.
Saturday 7 October, 10.30am to 12.30pm – Landscapes and Lenscapes seminar and shoot.
More articles in the news archive.