City phones down due to power outage
There is currently a power outage affecting areas of Wanneroo, Sinagra, Wangara, and Hocking. This is affecting inbound calls reaching us. Alternative ways of contacting the City
Home
City recognises 12 new pioneers
Published Monday, 27th July 2015
More than 160 Wanneroo identities and their families, Elected Members and City staff celebrated the Pioneers Luncheon by honouring 12 long term residents with Pioneer status of the City of Wanneroo.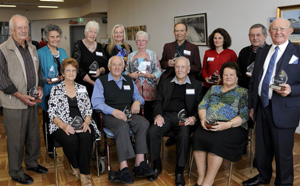 The Pioneers Luncheon pays tribute to those who have made a valuable contribution to the local community for 50 years of their adult life.
The new pioneers were presented with commemorative plaques and badges to recognise them among the select group of 214 current Wanneroo pioneers.
Mayor Tracey Roberts welcomed and thanked the newest pioneering members.
"The City of Wanneroo was built by hardworking, passionate people, many of whom have dedicated themselves to their families, and to our community," she said.
"They have helped weave the fabric of our City into a rich tapestry of cultures and experiences - one of harmony, selflessness and contribution. They are the trailblazers - the innovators - the doers.
"This year we bestow upon 12 local residents the honour of being named at City of Wanneroo Pioneer and they are Dorothy and Ivan Franulovich, Rose and Joe Marinovich, Giuseppe (Joe) Rocca, Janice Sinagra, Teresa and Nino
Stazzonelli, Mary Schivardi, Gail Susac, Chris Trajanovich and Leslie (Les) Turner.
"Our 12 new Pioneers are a wonderful group of individuals who make us all proud to be part of this warm, caring and thriving City, the City of Wanneroo," Mayor Roberts said.
View the 2015 Pioneers Profile
More articles in the news archive.