Home
City of Wanneroo appoints new CEO
Published Wednesday, 30th August 2023
Mayor Linda Aitken has announced that City of Nedlands CEO Bill Parker will become the City of Wanneroo's new CEO, following a unanimous vote by Council at a Special Meeting held on 29 August 2023.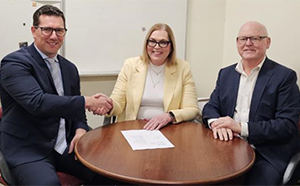 The appointment follows an extensive recruitment process to identify a strong leader to work with Council and Administration to realise the vision of the City's fast growing and diverse resident and business communities.
"On behalf of Council, I welcome Mr Parker to the City of Wanneroo," Mayor Linda Aitken said.
"Mr Parker holds 20 years of local government experience in both metropolitan and regional Western Australia.
"Working across five different local government organisations, he is a highly qualified and well-respected leader in the sector and has worked in a number of disciplines including project management, customer service, records management, property administration, finance, strategy, technology and general management."
Mayor Aitken said that Council is looking forward to working with Mr Parker to ensure that the City continues to deliver on the community's aspirations.
"Our community has high expectations for the future of the City of Wanneroo and I am confident that Mr Parker holds the skills and experience needed to lead our thousand-plus workforce to achieve the City's strategic vision," she said.
The appointment follows the announcement of current CEO Daniel Simms' resignation after serving more than 21 years at the City of Wanneroo.
Mr Parker will start with the City of Wanneroo on Monday 4 December.
More articles in the news archive.