Home
City supports local business and innovation
Published Thursday, 31st August 2023
Two local entrepreneurs have been awarded City of Wanneroo-funded scholarships to the 2023 Curtin Ignition Program.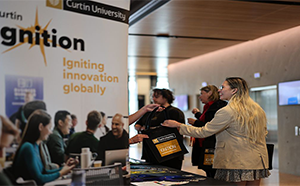 The intensive, one-week education program, led by Curtin University, helps entrepreneurs, business owners and innovators trial and prepare their business idea for the market.
Quinns Rocks resident Fraser Tonner was awarded a place in the program for his innovative solution to building insulation that aims to reduce energy consumption and air conditioning bills by up to 70 per cent.
"I'm hoping that the Ignition program will teach me how to talk to investors and ways to pitch my idea," he said.
"This is a very generous sponsorship and I'm hoping for some guidance to work out my go-to market strategy."
Yanchep resident Jody Rolph was also selected to further develop an annual convention that brings people together to explore their creativity.
"I am looking to grow my business by adding more locations to the conference, employ staff and expand to offer online services," she said.
"I want to work on how to grow and structure a business and seek guidance to set up a sustainable business model."
City Advocacy and Economic Development Manager Steve Marmion said he was proud of the City's eight-year collaboration with Curtin University to offer the scholarships.
"Small businesses form the backbone of our community and the creation of local jobs is a key focus of our economic development strategy," he said.
"Through this scholarship we are supporting local entrepreneurs to transform their innovative ideas into successful reality in the business world."
The Curtin Ignition Program runs from 3 to 8 September 2023.
For more information on future opportunities, such as business support and scholarships offered by the City of Wanneroo, sign up to our business e-newsletter.
More articles in the news archive.