Home
Doors open at revamped Clarkson Youth Hub
Published Friday, 1st September 2023
Clarkson Youth Hub is back in business after a significant upgrade, offering valuable services and programs for young people living in Perth's northern suburbs.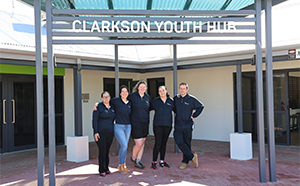 The $1.6 million project includes a new games and activity area, function room, meeting rooms, kitchen spaces, accessible toilet facilities and office spaces.
Spaces are available to hire by youth organisations and service providers to deliver regular programs and services, as well as for one-off events and workshops.
The Hub's main entrance has been relocated to better connect with Clarkson's popular pump track and skate park.
The project was funded with $1 million from the Australian Government's Local Roads and Community Infrastructure Program, $500,000 from Lotterywest and a City contribution.
Mayor Linda Aitken said the revitalisation had breathed new life into the much-loved centre.
"The upgraded Hub has been designed to offer a welcoming and safe space for our young people to connect and access tailored services and programs in the heart of Clarkson," she said.
"With the northern corridor home to a growing number of young people and families, it's important to ensure we provide infrastructure and community facilities they can enjoy.
"Our youth centres provide a safe environment for young people to socialise, have fun and build a sense of belonging within their community."
Federal Member for Pearce Tracey Roberts said the upgraded centre would be welcomed by the many young families and youth in Pearce.
"The centre will provide a safe hub for local youth to connect, engage and socialise," she said.
The Federal Government recognises the importance of providing facilities and infrastructure to meet the needs of our growing community, including residents living with disabilities."
State Member for Burns Beach Mark Folkard said the upgrades to the Clarkson Youth Hub would help modernise a key community space.
"These important upgrades to the centre will ensure we have an inclusive, vibrant, and safe location for young people to connect and engage with the community."
More articles in the news archive.