Home
City awards tender for Orion Café upgrade
Published Tuesday, 19th September 2023
Work will soon begin on the upgrade of the Orion Café and change rooms at Yanchep Lagoon, following the approval of a construction tender for the project at the City's September Council meeting.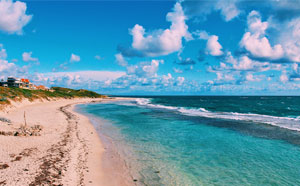 Council accepted a tender from Yanchep based Hickey Constructions for the project that includes the extension of the Orion Café dining and service areas, a new outdoor deck area and upgrades to the roof of the kiosk.
City of Wanneroo CEO Daniel Simms said the upgrades would give the popular café a new lease on life by providing customers with an improved dining experience.
"Yanchep Lagoon is much-loved by residents from our northern corridor and beyond, and these works to the longstanding kiosk premises will provide locals and visitors with upgraded, accessible hospitality facilities to use when they visit the beach," he said.
"The improvements will provide the café with increased seating space, and the new deck will allow customers to enjoy even better ocean views."
As part of the renovations, the existing public toilets will be modified and reduced in size, to be available for use during trading hours. Additional public toilets are available nearby at the Yanchep Surf Life Saving Club and Fisherman's Hollow park.
Orion Café owner Bernardo Alalid thanked the community for their support and confirmed people will still be able to enjoy food and drinks at the lagoon during the closure.
"I'm so excited for this upgrade and the improved service and dining experience it will provide for our customers," Mr Alalid said.
"Orion Café will continue to provide services to the local community while the renovation is ongoing, by providing a food truck beside the playground area."
The upgrade of the Yanchep Lagoon kiosk forms part of the Yanchep Lagoon Area Master Plan, a place-based development plan that guides future growth and improvements in the Yanchep Lagoon Precinct, with the aim of creating greater opportunities for tourism, recreation and economic development in the area.
Construction works will begin in the coming weeks, with completion scheduled for mid-2024.
More articles in the news archive.