Home
Dordaak Kepap reaches exciting milestone
Published Thursday, 12th October 2023
Detailed design on the Dordaak Kepap Library and Youth Innovation Hub is now complete, with the tender for construction set to go out in November.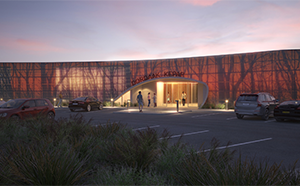 The Landsdale facility will feature a library, function and meeting rooms, and youth innovation spaces including a STEAM (Science, Technology, Engineering, Arts and Mathematics) room, gaming room, demonstration kitchen, podcasting room, a recording booth and studio.
City of Wanneroo Deputy Mayor Brett Treby said the development would offer a fantastic service for the community.
"Dordaak Kepap is on track to offer a range of services, programs and activities for the community, providing everything from STEAM programs and podcasting facilities to classic library elements and youth innovation and early childhood offerings," he said.
"We have received very positive feedback from local families and young people and are grateful to everyone who has taken the time to have their say on the project to make sure it meets our community's needs."
The City will receive a $3 million funding contribution under the State Government's WA Recovery Plan to enable the delivery of the Youth Innovation Hub.
State Member for Landsdale Margaret Quirk said she was pleased the State Government could contribute to the "wonderful" project.
"The recognition by the City of Wanneroo for the need for improved community facilities in Landsdale is welcome," she said.
The library and youth innovation hub's name Dordaak Kepap, meaning place of living waters, was chosen through consultation with Noongar elders and community members to reflect the site overlooking Broadview Park.
To find out more about Dordaak Kepap, visit wanneroo.wa.gov.au
More articles in the news archive.