Home
Town Teams put focus on community
Published Monday, 23rd October 2023
The ultimate free, inclusive, community-focused placemaking event is coming to the northern suburbs this month.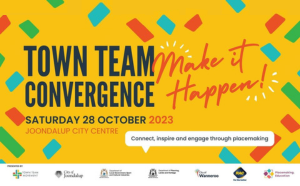 The sixth annual Town Team Convergence conference will feature a series of engaging, interactive seminars and workshops about placemaking, local economic development, and community wellbeing.
This year's theme is 'make it happen' and the conference will seek to inspire and empower community groups, volunteers, and local businesses to make a difference in their community.
Event details:
11.30am to 4pm, Saturday 28 October
Central Walk, Joondalup
The Town Team Movement is a not-for-profit organisation that aims to empower people to act and create more vibrant places to live, work and connect in their own town or suburb.
There are two Town Teams within the City of Wanneroo, the Clarkson based East Keys Collective, and Hello Wanneroo, based in the Wanneroo town centre.
Find out more about the Town Teams Movement at townteammovement.com.
More articles in the news archive.