Home
Stay safe this summer in the City of Wanneroo
Published Monday, 13th November 2023
As the weather heats up, it's important to keep water safety top of mind whether you're at the beach, your local pool or at home.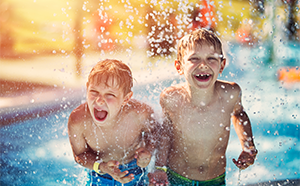 The City has prepared our beaches for the community to have fun in the sun, with the installation of the Swimming Enclosure at Quinns Beach and surf life saving towers at Yanchep and Quinns Mindarie beaches.
Mayor Linda Aitken said water safety should be a priority for everyone visiting our local beaches, splashing around at Wanneroo Aquamotion or having fun in private pools and spas.
"We work closely with Yanchep, Quinns Mindarie and Alkimos surf lifesaving clubs on beach patrols and ensure we have highly skilled lifeguards at Wanneroo Aquamotion," she said.
"The City also provides a mid-week beach lifeguard service through Surf Life Saving WA at Quinns and Yanchep beaches, backed up by roving patrols along our coastline over summer.
"We are committed to community safety and accessibility and are proud to offer a beach wheelchair at Quinns Beach, and access ramps and pathways at all our beaches.
"Wherever you choose to swim, it's critical that everyone in the family knows how to swim and handle emergencies around water before you dive in."
The City conducts inspections of private properties with pools or spas to ensure compliant and mandatory effective safety barriers are in place.
Unsafe and unsupervised swimming pools and spas were the most common location for children drowning in Australia, with most incidents involving young children wandering into a backyard pool.
"We take community water safety very seriously, as poorly maintained fencing, propped-open gates and lack of self-latching gates all jeopardise safety," Mayor Aitken said.
"Every pool or spa that holds more than 30cm of water requires a compliant safety barrier and a building permit to be issued prior to installation, so think carefully about that pop-up pool before you buy this summer!"
The City of Wanneroo recommends keeping these water safety tips in mind:
Supervise children in pools and spas at all times and don't get distracted by your phone
Check that your pool barrier is safe and compliant
Learn swimming and lifesaving skills
Wear a lifejacket when boating, rock fishing or paddling
Swim at patrolled beaches between the red and yellow flags
Always read safety signs
If you need help, stay calm and attract attention
Avoid alcohol around water
For more information, visit wanneroo.wa.gov.au
More articles in the news archive.