Home
Heritage and library volunteer champions
Published Friday, 18th September 2015
The City of Wanneroo hosted an appreciation dinner last Friday to recognise the contributions of more than 70 heritage and libraries volunteers.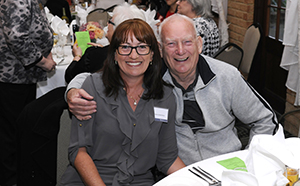 Mayor Roberts said the dinner was a small gesture of thanks for the tireless service each volunteer provided to the community.
"Volunteering groups across heritage and libraries have worked hard to deliver interactive and engaging programs to the community," she said.
"The appreciation function is an opportunity to recognise each individual and the work that they do behind the scenes.
"The volunteers do more than give their time, they give their energy to make sure all events run smoothly and are enjoyable for visitors as well as contribute to the social fabric of Wanneroo."
The event recognised volunteers who serve at Cockman House, Buckingham House, the Community History Centre, Wanneroo Regional Museum, the Wanneroo Library and Cultural Centre Gallery and the City's four libraries as well as their internal programs.
Four volunteers were nominated by their peers to receive excellence awards for outstanding commitment and dedication to their role as a volunteer and their service to the City.
Volunteer Merryl Smart was presented with an award for her consistent dedication to the Buckingham House and Cockman House heritage sites. As well as volunteering every week, Merryl has remained active at all special open days this year.
Buckingham House volunteer Meg Birch was also awarded for her efforts at the heritage homestead and Bernice Marwick was awarded for her passion and enthusiasm towards the Cockman and Buckingham houses.
Bernice was instrumental in the inclusion of the Wanneroo Regional Museum in the upcoming Wanneroo Show and works to involve the Wanneroo Historical Society in City programs and historical events.
Jennie Danher was recognised for 15 weeks of service to the Library and Cultural Centre's Friday at the Flicks program.
"We have more than 500 volunteers across the City with 71 volunteers in heritage and libraries – certainly we could not achieve all the work we do as a City without our volunteers," Mayor Roberts said.
More articles in the news archive.