City phones down due to power outage
There is currently a power outage affecting areas of Wanneroo, Sinagra, Wangara, and Hocking. This is affecting inbound calls reaching us. Alternative ways of contacting the City
Home
City and businesses tee off to champion the cause for charity
Published Tuesday, 20th October 2015
The City of Wanneroo is proud to announce its 2015 Corporate Charity Golf Day has raised nearly $40,000 for chaplaincy services at public secondary schools.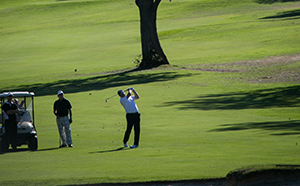 The City's Corporate Charity Golf Day has been running since 2001 and in that time has raised more than $440,000.
This year's highly successful event was held at Carramar Golf Course on Thursday 15 October and raised $38,150.
Twenty three teams competed to raise money for YouthCARE which provides chaplaincy services at public secondary schools in the City.
YouthCARE offers social, emotional and spiritual support to thousands of students, staff and family members in Western Australian public school communities each year.
The City would like to thank our many wonderful sponsors for their generous contributions:
Banksia Grove Development, Civica, Cossill & Webley Consulting Engineers, Edith Cowan University, Hopgood Ganim Lawyers, Kerb Direct, Mindarie Regional Council, Peet Ltd, Pindan Capital Two Rocks Pty Ltd, Programmed Integrated Workforce Ltd, Roads 2000, Satterley Property Group, Skipper Trucks, SUEZ Environment, WA Hino, Wanneroo Business Association, Woodsome Management Pty Ltd (the Alkimos/Eglinton land owners) and Yanchep Beach Joint Venture.
The City also extends its sincere thanks to Estates Development Company, Joondalup Health Campus, Major Motors, McLeods and Schweppes for their generous donations towards the event.
More articles in the news archive.