City phones down due to power outage
There is currently a power outage affecting areas of Wanneroo, Sinagra, Wangara, and Hocking. This is affecting inbound calls reaching us. Alternative ways of contacting the City
Home
Rates race a winner for City of Wanneroo residents
Published Friday, 6th November 2015
Six lucky City of Wanneroo residents are celebrating their winnings in the Race in Your Rates competition.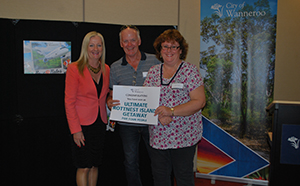 Each year the City encourages residents to pay their rates on time and offers fantastic incentives to those who do.
The prize pool - worth more than $10,000 - included:
1st Prize - a Flight Centre voucher for a holiday package worth $5000
2nd Prize - an ultimate Rottnest Island Getaway for four from Rottnest Fast Ferries (valued at $2344)
3rd Prize - $2,000 Coles Myer gift card
4th Prize - $1,000 Coles Myer gift card
5th Prize - $500 Coles Myer gift card
6th Prize - $500 Coles Myer gift card
The draw at the Civic Centre last night was attended by six finalists who had either paid the first instalment, or all of their rates, by the 7 September deadline. Their names were put on a list in random order and they were then asked to select a prize card revealing their prize. The lucky winners were:
Rebecca and Byron of Mindarie, Jim and Silviana of Landsdale, Lindsay and Rodrigo of Quinns Rocks, Tran and Thi of Girrawheen, Robert and Marisa of Yanchep and Ian and Julia of Wanneroo
First prize winner Rebecca said her family is excited to have won the travel voucher.
"The holiday package will give our three kids the chance to meet family overseas for the first time, we'll have to get passports now!" she said.
Lindsay from Quinns Rocks said her $2,000 gift voucher is well timed.
"This will help tremendously with Christmas shopping, we are a big family with three kids, I'm very happy and Race in Your Rates is a fantastic incentive," she said.
Another lucky winner, stay at home mum Silviana from Landsdale said she was grateful to be chosen after entering the competition every year.
"I am the sort of person who never gives up. When you have three teenagers in a family of five and you're on a budget, even the smallest of prizes helps so much," Silviana said.
City of Wanneroo Mayor Tracey Roberts congratulated the winners and said the prizes provided great incentives for residents to pay their rates on time since the completion started in 1997.
"Rates enable the City to fund its many community services, annual works programs and ongoing maintenance of facilities and amenities which helps all residents," Mayor Roberts said.
"Residents should mark rates time in their calendars to be sure they are among the lucky winners next year."
More articles in the news archive.