City phones down due to power outage
There is currently a power outage affecting areas of Wanneroo, Sinagra, Wangara, and Hocking. This is affecting inbound calls reaching us. Alternative ways of contacting the City
Home
Concert enjoyed by thousands
Published Monday, 9th November 2015
The City of Wanneroo Presents: Music from the movies performed by WAYJO was a huge success with 7,500 people of all ages enjoying the family friendly event at Wanneroo Showgrounds on Saturday night.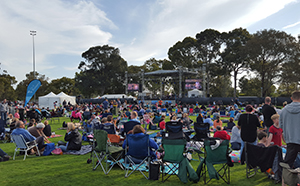 City of Wanneroo Mayor Tracey Roberts said the night was a wonderful celebration of high quality entertainment.
"The City's annual concert is always extremely popular. It brings the community together and gives families the opportunity to create lasting memories," Mayor Roberts said.
"This year's concert was no exception, it offered a fabulous free evening of upbeat music, quality jazz and fun entertainment for all."
The event was headlined by the WA Youth Jazz Orchestra (WAYJO) who performed well known movie soundtracks including Mission Impossible, Monsters Inc., The Lion King, Jungle Book, The Incredibles and Beauty and the Beast.
Support act, The Brow warmed up the stage with their high energy genre-defying beats that mix pop, electronic and hip hop.
"Both WAYJO and The Brow were brilliant and on behalf of the City I thank them for their sensational performances which were thoroughly enjoyed by the very lucky audience," Mayor Roberts said.
"The City's events season is off to a wonderful start and I encourage people to head to the City's website and sign up for our events newsletter to make sure they don't miss a thing."
More articles in the news archive.