COVID-19 recovery information and updates
The City of Wanneroo is reopening a number of community services and facilities in line with Phase 4 of the State Government's COVID-19 Roadmap to Recovery. Click here to find out more
Home
Local art to shine at Northern Perspectives
Published Friday, 15th January 2016
Following the successful inaugural exhibition in 2015, the City of Wanneroo is pleased to be holding the student art exhibition Northern Perspectives for the second year running.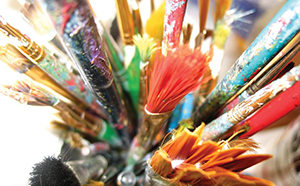 Northern Perspectives exhibits recently graduated Year 12 student art, showcasing their works in the contemporary and professional gallery space of Wanneroo Library and Exhibition Centre.
"This is a wonderful community event displaying the best art from students in our area. All local residents should come down and take a look – I am sure they will thoroughly enjoy the talent on display," City of Wanneroo Mayor Tracey Roberts said.
Pieces include diverse painting, photography, collage, ceramics, glass, textiles, jewellery and 3-D works.
Students from the cities of Joondalup, Stirling and Wanneroo have been invited to display 39 individual works from 14 different secondary schools, a significant increase on the number of entrants in 2015.
Each work artistically expresses young peoples' everyday lives and the issues and concerns that confront them. All artists exhibiting are eligible to enter the People's Choice award of $500, voted by the visitors of the gallery.
In 2015, more than 500 visitors came to the exhibition and Northern Perspectives 2016 is expecting even more art lovers to enjoy the display.
The success of the exhibition has encouraged the City of Melville to initiate Southern Perspectives, offering similar opportunities to students from the southern metropolitan region.
The Mudlark (Jilinbirri) Metals exhibition, featuring alongside Northern Perspectives 2016, is also expected to be a standout display. Mudlark (Jilinbirri) Metals will showcase a delicate and intricate body of work capturing detailed woven designs while representing traditional Aboriginal metal artworks.
This exhibition showcases the art of the Jilinbirri Weavers who are all from regional Western Australia. The artists have proudly dedicated their lives to promoting their cultural heritage and community through their arts practice.
ART ON THE MOVE presents this exciting and contemporary exhibition, and will be touring these intricate works throughout Australia after they are displayed in Wanneroo.
The opening exhibitions for 2016 promise to be captivating, diverse and educational, with the exhibition of unique works created by artists within the local area and the broader community.
Details for the exhibitions:
When: Friday, 22 January – Saturday, 20 February 2016, with the opening night to be held on Thursday, 21 January 2016.
Time: The exhibit will be open from Monday to Saturday between 10am and 4pm.
Where: Wanneroo Library and Exhibition Centre at 23 Dundebar Road, Wanneroo.
More articles in the news archive.