City phones down due to power outage
There is currently a power outage affecting areas of Wanneroo, Sinagra, Wangara, and Hocking. This is affecting inbound calls reaching us. Alternative ways of contacting the City
Home
Wanneroo holds biggest citizenship ceremony in Australia
Published Wednesday, 27th January 2016
816 residents from 67 different countries have received their Australian citizenship at the City of Wanneroo's annual Australia Day Citizenship Ceremony.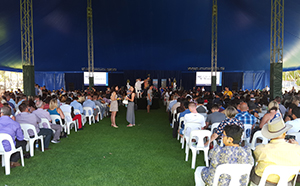 Mayor Tracey Roberts officiated at the event and distinguished guests included Member for Wanneroo Paul Miles MLA, representing the Premier, and WA Leader of the Opposition The Honourable Mark McGowan MLA.
"We are proud of our city and heritage, and to the pioneers whose hard work has laid the foundations for what has become one of Australia's fastest growing cities," Mayor Roberts said.
"We service an area of 684 square kilometres, which includes bushland, wetlands, urban and rural areas, in addition to 32 kilometres of coastline.
"I wish you all a happy, safe future, in what I believe is the best local authority - in the best state - in the best country - in the world," she said.
This year's event featured special guest speaker Stacy Dunbar, who was WA's Australian of the Year Local Hero in 2015. Stacy delivered a heartfelt speech about her road safety campaigning efforts to reduce the number of drunk drivers after her son was tragically killed by a drunk driver in 2013.
The Wanneroo Scout Group cooked up a storm and all guests were treated to a delicious breakfast barbeque.
During the ceremony, the winners of the Australia Day Awards were announced, recognising those from the City of Wanneroo who have made outstanding contributions to their local community.
Profiles on the Australia Day Award Winners
Charles Searson Australia Day Youth Award
A person under the age of 25 who has made an outstanding contribution to the local community.
Matthew Vine volunteered hundreds of hours to community projects including working with schools, universities and a number of local charities and clubs.
Matthew supported his local athletics club, provided mentoring for many university students and helped to fund raise for numerous charities including Lions International.
Demonstrating leadership within the local community with drive and enthusiasm, Matthew was acknowledged for his positive engagement with various youth groups.
In 2008, Matthew was awarded a City of Wanneroo Student Citizen Award and has continued his work in the community.
Australia Day Individual Award
A person over the age of 25 who has made an outstanding contribution to the local community.
Ronald Arnold has been volunteering his time tirelessly in the Two Rocks and Yanchep communities since as early as 1982.
His efforts have helped to bring the region to life thanks to his commitment in fulfilling numerous organisational and management roles at community events.
As President of the Yanchep Two Rocks Community Rec Association Inc., Ronald has been continually working alongside the City of Wanneroo to provide community facilities.
City of Wanneroo Australia Day Community Group Award
An outstanding local community group or event.
Wheelchairs for Kids has been working together since 1998, with more than 150 weekly volunteers dedicating their time and skills to help.
The organisation builds wheelchairs for disabled children in developing countries, including those who have been injured from land mines.
Around 300 wheelchairs are constructed each month through this group's efforts, and are donated with purpose designed blankets made by various community members.
More articles in the news archive.