City phones down due to power outage
There is currently a power outage affecting areas of Wanneroo, Sinagra, Wangara, and Hocking. This is affecting inbound calls reaching us. Alternative ways of contacting the City
Home
Live in the Amphitheatre movies a huge success
Published Thursday, 3rd March 2016
Live in the Amphitheatre, the free outdoor cinema event hosted by the City throughout February, was a huge success with twelve films shown.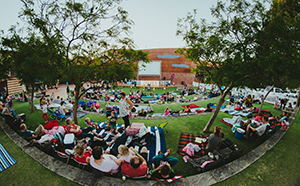 Around 2,500 local residents attended the City of Wanneroo's Jacaranda Amphitheatre for
the event, and relaxed under the stars as they watched a blockbuster movie.
Mayor Tracey Roberts said she was pleased the event was such a success.
"It was wonderful to see so many people relaxing in the Jacaranda Amphitheatre enjoying
the beautiful warm weather with their families and their picnics, being entertained by a
movie," Mayor Roberts said.
The film The Best Exotic Marigold Hotel delighted seniors who were collected from nearby
homes and given VIP tickets to enjoy the movie.
Presented by Telstra Store Wanneroo, the cinema program was shown throughout February
on Wednesday, Friday and Saturday nights.
Live in the Amphitheatre is now an established annual event for the City of Wanneroo,
following the success of previous years. A variety of family friendly films, blockbusters and classic movies were shown during the four weeks, pleasing all audiences.
Highlights from the program included children's classic Jungle Book and comedy Trainwreck.
More articles in the news archive.