City phones down due to power outage
There is currently a power outage affecting areas of Wanneroo, Sinagra, Wangara, and Hocking. This is affecting inbound calls reaching us. Alternative ways of contacting the City
Home
Retro Rewind a big hit with residents
Published Tuesday, 15th March 2016
More than 5,000 people descended on Yanchep National Park on Saturday, toe tapping and swing dancing as live acts entertained the crowd.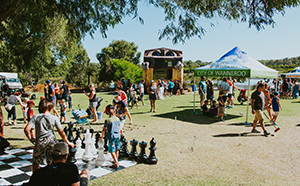 The free City of Wanneroo event, in partnership with Yanchep National Park, was a huge success in its third year, attracting residents of all ages, including many families. For the first time, Retro Rewind featured the Vintage Collective Markets, with its more than 55 vintage themed stalls. The markets were a huge hit with residents and proved popular throughout the day.
"Retro Rewind is a highly anticipated event on the City's calendar and, with its vibrancy and vintage fun, it is easy to see why," Mayor Tracey Roberts said.
"I thoroughly enjoyed seeing so many families and friends in the Yanchep National Park,
enjoying themselves on a beautiful day."
Retro Rewind featuring the Vintage Collective Markets had live acts including Repartee For Two, Some Like It Yacht, and Randa And The Soul Kingdom, showcasing the classic hits of days gone by. It was great to see the bands bringing the stage to life, encouraging the crowd to get on their feet.
Children were kept busy with free activities including flower crown making, lawn games, retro arcade games, a bouncy castle and face painting. The swing dancing workshops also proved extremely popular, with hundreds of people learning new steps to try out on the dance floor. The vintage pinup fashion parade was another highlight for many residents.
Retro Rewind was sponsored by Lotterywest, The North Coast Times and Nova.
For information on the City's next free event, Global Beats & Eats on Saturday, 9 April visit
www.wanneroo.wa.gov.au/gbe
or phone 9405 5000.
More articles in the news archive.