COVID-19 recovery information and updates
The City of Wanneroo is reopening a number of community services and facilities in line with Phase 3 of the State Government's COVID-19 Roadmap to Recovery. Click here to find out more
Home
TravelSmart Champion
Published Wednesday, 13th July 2016
A City of Wanneroo employee has been recognised for his efforts to change travel behaviours.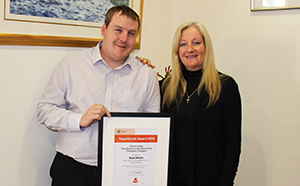 Road Safety and TravelSmart Officer Ryan Gibson took out the TravelSmart Local Government Champion award last week for outstanding success in championing the active
transport cause throughout the City of Wanneroo.
Wanneroo Mayor Tracey Roberts congratulated Ryan, who has been an integral member of the Your Move Wanneroo project team and played significant part in ensuring the success of
the program.
"Ryan has also been responsible for implementing the TravelSmart Schools and Workplace program in the City, as well as handling public requests regarding speed zones, parking and
infrastructure," Mayor Roberts said. "He works hard with the many school Roadwise committees and helps promotes road safety, including the successful Blessing of Roads
event at Easter.
Ryan was also acknowledged for ensuring TravelSmart and Active Transport principles are advocated for and considered as core business for all City business units.
"Ryan's TravelSmart and Active Transport knowledge has provided invaluable advice and expertise for various policy and program development projects and has led to the creation
and adoption of new policies that will ensure the City of Wanneroo is a supportive and safe environment for people to walk, ride and use public transport.
"The City of Wanneroo team goes above and beyond to make our community a great and safe one and Ryan is a perfect example of that commitment."
The TravelSmart Awards allow the Department of Transport to acknowledge and celebrate the great work local governments, schools and workplaces are doing to reduce congestion
and increase the number of people choosing to walk, cycle and use public transport.
More articles in the news archive.