Home
Five of Australia's favourite bands to rock Wanneroo
Published Thursday, 22nd September 2016
The City of Wanneroo is inviting families to experience an electrifying night of music at their annual concert on 5 November.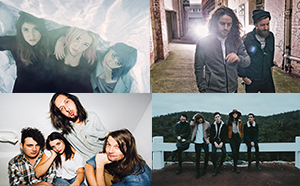 Chart topping Melbourne-based indie rock band British India will headline the City of Wanneroo Presents concert with stellar support acts Little May, Holy Holy, Tired Lion and The Hunting Birds.
Mayor Tracey Roberts encouraged families to attend the popular event to enjoy FREE entertainment at a local venue.
"Don't miss out on a night of quality music and plenty of fun to keep the whole family entertained," Mayor Roberts said.
"The concert will also provide an opportunity for locals to enjoy a range of delicious options from Perth's best food trucks," she said.
FOOD VENDORS:
Lucky Chans Bao Bar – All kinds of Bao to satisfy those cravings
The Wooden Box – Fresh, seasonal home cooked food
The Fish Boss – The best seafood on wheels
Mojito Cantina – A Mexican fiesta of tortillas, taco's, nachos, wedges and churros
Suppa Club – Handmade delicious, healthy, wholesome soups
Grilled to the Mac – North American grilled sandwiches and that famous Mac n Cheese
Guru Bites – Spice things up with some tasty Indian Street Food
The Pasta Truck – Fresh Italian pasta
Pash Frozen Yoghurt – Guilt free pleasure hand made using locally sourced ingredients
Lena Lu – Handmade Bombolini doughnuts with an assortment of delicious fillings
Scone Crazy – Freshly baked S-Cone with delicious fillings
Spiral Spud Stick – Crunchy, golden potato snacks with your choice of sauce
BOOM Coffee – The cutest coffee cart in town
Bootlegger Coffee – Tasty coffee, cold pressed juices, doughnuts, slices and more
ACTIVITIES:
· Bubble Soccer
· Radrock Stunt Jump
· Circus Skills workshop
· Dart-Tag nerf zone
· Flower crown craft workshop
· Bouncy Castle
· Giant bubbles
· UV bracelet craft
· Face Painting
· Photobooth
Tickets are FREE but essential and will be available exclusively to City of Wanneroo residents from 9am on Monday 3 October. Any remaining tickets will open to those who live outside of the City from 9am Monday 17 October.
While the event is free, tickets are essential and are available via the City's website wanneroo.wa.gov.au/concert
Those who do not have access to a computer or the internet are welcome to visit any City library for help securing tickets.
Ticket essentials:
· Visit wanneroo.wa.gov.au/concert
· Select a maximum of four adult tickets per household (unlimited 12 years and under children's tickets)
· Complete your name, address and email details
Your e-tickets will be emailed to you. Please remember to bring along a printed copy of the tickets or show them on your smartphone at the entry gates. City residents must bring identification to the smoke and alcohol free event which starts at 4pm.
5 November 2016 Wanneroo Showgrounds
4pm – 9.30pm
The City of Wanneroo would like to thank sponsors Community News and Banksia Grove.
More articles in the news archive.