Home
City's young firefighters recognised
Published Tuesday, 27th September 2016
A young City of Wanneroo volunteer firefighter has been recognised for his outstanding contribution to protecting the community at the 2016 Firefighter Awards.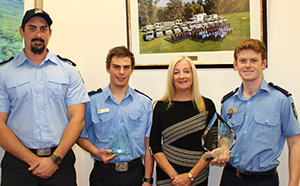 Struan Graham (21), a Wanneroo Central Bushfire Brigade volunteer, was announced as the Winner of the 2016 Youth Achievement Award.
Struan and fellow volunteer Richard Moon (17), a member of the Quinns Rocks Brigade, were two of only three finalists in the Youth Achievement Award at this year's Firefighter Awards.
Struan joined the Wanneroo Central Volunteer Bushfire Brigade at aged 16 and since that time he has taken on several roles within the brigade and organised a number of community events, including school visits and fire awareness presentations, all whilst juggling work and study.
"We are so proud of Struan and it is wonderful to see his outstanding efforts publicly recognised," Mayor Roberts said.
"All of the City of Wanneroo's volunteer fire fighters work incredibly hard to protect the community, investing a great deal of time and energy into their roles.
"I would like to congratulate both Struan and Richard for their contributions to the City of Wanneroo and the wider community. Their dedication and hard work is greatly appreciated."
Photo caption: From L-R, City of Wanneroo's Fire Protection Officer, Ricky Southgate; volunteer and finalist, Richard Moon; Mayor Tracey Roberts and winner of the 2016 Firefighter Awards (Youth Achievement) Struan Graham.
More articles in the news archive.