Home
Wanneroo heritage volunteers celebrated
Published Thursday, 29th September 2016
The valuable contributions of the City of Wanneroo heritage and library volunteers were recognised at an appreciation dinner on Friday.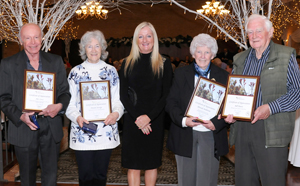 Mayor Tracey Roberts praised the volunteers for their dedication and commitment.
"The City is such a vibrant place to live and the outstanding contributions our volunteers make to the community are very much appreciated," Mayor Roberts said.
"We are proud of our volunteers and host these events as a small thank you for the continued service they provide," she said.
"On behalf of our residents, I would like to sincerely thank each and every one of our volunteers who give their time so selflessly and make a significant difference to our community."
The City has more than 500 volunteers across the City with 124 volunteers in heritage and libraries alone.
At Friday's function, held at Bridgeleigh Reception Centre, 60 volunteers were acknowledged from Buckingham House, Cockman House, the Community History Museum and The Wanneroo Library and Cultural Centre Gallery.
The following volunteers were awarded with the City's Volunteer Excellence Award for their invaluable assistance:
Bill Davis – Cockman House
Rhonda Ballarine - The Wanneroo Gallery
Doreen Savage – Buckingham House
Sjoukje Tarbox – Clarkson Library
Denise Phillips – Girrawheen Library
Emma Jean Pritchard - Girrawheen Library
Alec Levy - The Wanneroo Library
More articles in the news archive.