Home
Nature play area honouring toddler Sam Trott to officially open
Published Thursday, 3rd November 2016
The City of Wanneroo, with the Trott family, will officially open a fantastic new nature play area built in Sam Trott's honour at Warradale Park in Landsdale this Saturday.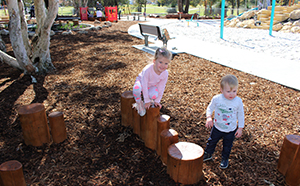 Mayor Tracey Roberts said the Warradale Park Nature Play Area was completed in August and had already been used by thousands of people.
"I am so proud to see families enjoy this wonderful playground. When the decision was made to create a memorial to Sam the consensus was always that it would be an uplifting tribute celebrating his life," she said.
"Sam's family wanted to give back to the community who supported them and they have been instrumental in creating this magnificent facility for the community.
"I know Sam's mother Lyndal has taken comfort watching children play and families having a great time together. The Trott family's selflessness in turning their heartache into joy for others is so courageous and an inspiration to all.
"As a special tribute to Sam, we worked with the Autism Association of Western Australia on this project to ensure the playground incorporated activities to support children with Autism, especially in relation to their sensory needs.
"I am very pleased we were able to deliver a facility that brings enjoyment to the community and solace to Sam's family."
The $280,000 nature play area includes slides, swings, a timber teepee, musical instruments, timber activities and is fully fenced.
The working group included the Mayor Tracey Roberts, Councillor Brett Treby, Chief Executive Officer Daniel Simms and the Trott family.
Event details:
Warradale Park, Southmead Drive, Landsdale
Saturday, 5 November 2016
12noon
More articles in the news archive.