Home
Funding secured for Two Rocks beach access project
Published Monday, 10th July 2017
State Government funding has been secured to enable the Two Rocks Beach Access Project to proceed to the design and construction phase.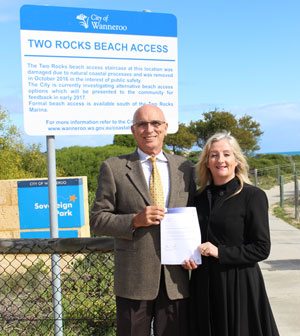 The project involves the appointment of a contractor to design and construct a beach access staircase at Sovereign Drive, near Sceptre Court, providing year-round safe pedestrian access.
The announcement was made last week by Attorney General and Member for Butler, John Quigley and City of Wanneroo Mayor, Tracey Roberts, and follows City of Wanneroo Council's endorsement of the project at the April 2017 Council meeting.
"Ensuring safe, year-round beach access is an important part of supporting the lifestyles of our residents, enabling them to enjoy our beautiful coastline and helping to attract visitors to our City", said Mayor Roberts.
"This project forms part of the $3.7m we have committed to coastal foreshore management in this year's budget to maintain the City's 32km of beaches and ensure they are safe and enjoyable for all".
Mr Quigley added, "This fulfils another election promise that I made to the community. I am committed to doing all I can to protect our coastal amenities, and to working closely with Mayor Tracey Roberts and the City of Wanneroo", added Mr Quigley.
A Design and Construction contractor will be appointed in August with the aim of reaching project completion in December.
The previous staircase and platform was constructed in 2002. Storms in May 2016 significantly eroded the beach and dunes around the structure causing damage and public safety issues, which resulted in its removal in October 2016.
More articles in the news archive.