Home
'We All Sleep' artwork exhibition comes to Wanneroo
Published Friday, 21st July 2017
The 'We All Sleep' original artworks will be exhibited at the Wanneroo Library and Cultural Centre to the delight of the City of Wanneroo and Fremantle Press.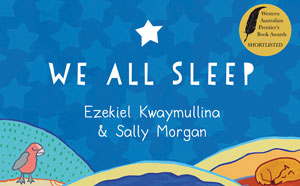 Acclaimed mother and son team Sally Morgan and Ezekiel Kwaymullina take readers on a journey through a typical Australian day in the bush and celebrate the connection between people and animals using lyrical language and opulent colour.
Beginning at sunrise and ending with starlight, the reader observes Australian flora and fauna appearing at their ideal time of day.
The exhibition of original artworks from the book runs from 28 July to 26 August upstairs in the Conference Room at the Wanneroo Library and Cultural Centre.
To coincide with this beautiful exhibition as well as Book Week 2017, the Wanneroo Library will be running a series of free workshops for school groups.
The workshops are aimed at years 1 to 6 and will link with Book Week and National Science week, and offer the opportunity to learn art techniques and hear traditional Aboriginal storytelling.
Literacy teaching notes are also available for We All Sleep with cross-curricular links to art, science and sustainability.
To register your interest, please email: julianne.mackay@wanneroo.wa.gov.au or phone 9405 5920.
About the Author
Ezekiel Kwaymullina was born in Perth in 1983 and is from the Palyku people of the Pilbara region of Western Australia. Ezekiel is the author of many books including My Amazing Dad, The Two-Hearted Numbat, Dreamers and My Country. Ezekiel's work is inspired by his love of fantasy novels, anime, video games and films.
About the Illustrator
Sally Morgan was born in Perth in 1951. She has published books for both adults and children, including her acclaimed autobiography, My Place. She has also established a national reputation as an artist and has works in many private collections.
Useful Links:
More articles in the news archive.