Home
City seeks commercial developer to transform Yanchep Lagoon into tourist destination
Published Thursday, 26th October 2017
The City of Wanneroo is seeking expressions of interest from commercial organisations, individuals or joint venture partners interested in developing the current site of the Old Yanchep Surf Club.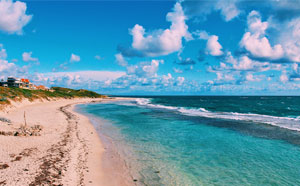 A developer is sought to demolish the existing building and build an architecturally progressive, iconic building that will ultimately help position Yanchep Lagoon Precinct as a vibrant, regional tourist destination. The City is open to all potential development options, providing they comply with planning and environmental requirements.
Opportunities such as an upmarket restaurant, bar, function centre or similar tourist attraction will be considered. The total site available for development is 2,130m 2
Yanchep Lagoon Precinct's beachfront location is unique in Perth and for the right developer it offers an exciting opportunity, with its sweeping views of the ocean and projected residential growth of the greater Yanchep area.
Due to the significant investment needed to revitalise the area, the City is open to negotiating the rental costs for the right candidate.
Pending expressions of interest and approvals, the site will be available for development in mid-late 2018. Although lease terms are negotiable, the rental period would be long term, ranging from 10 – 21 years, inclusive of options.
For enquiries, please call:
Karen Godridge (08) 9405 5409 (general enquiries)
Neil Scanes (08) 9405 5681 (lease specific enquiries).
Initial Stage 1 applicants are to register their interest with Karen Godridge, Property Projects Officer, via mail, Locked Bag 1, Wanneroo WA 6946.
Initial Stage 1 EOI registrations close at 4pm, Thursday 14 December 2017. Applicants deemed appropriate for further consideration will receive a Stage 2 EOI information pack in late December 2017, which will include details of the application
procedure and relevant selection criteria to be addressed. A non-mandatory site visit is planned for 19 January 2018.
More articles in the news archive.