City phones down due to power outage
There is currently a power outage affecting areas of Wanneroo, Sinagra, Wangara, and Hocking. This is affecting inbound calls reaching us. Alternative ways of contacting the City
Home
Smart Cities funding awarded for key projects
Published Tuesday, 14th November 2017
The City of Wanneroo has been successful in receiving valuable funding from the Federal Government's Smart Cities and Suburbs Program for two key projects.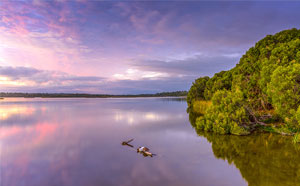 A total of $3.05 million has been awarded to enable The Rail Smart Program and The Yellagonga Wetlands Smart Sensor Monitoring Program to be activated. Both projects harness technology, innovation and data to help support strategic decision making to enhance our growing community and improve the lives of residents.
The Rail Smart Program has been granted $1 million for new technology to analyse public transport data gathered from train users at the Clarkson, Butler and Joondalup train stations, and the terminating station of Mandurah. This data will be analysed and used to inform the design of the future stations of Alkimos, Eglinton and Yanchep.
"Establishing 'activity centres' that are in close proximity and easily connected to our train stations, is key to the future growth of the City, and part of the plan to deliver 100,000 local jobs," said City of Wanneroo Mayor Tracey Roberts.
"We are really pleased to have been awarded such significant funding support. This will enable us to approach the development of the activity centres with the right information to deliver the best outcomes for residents and attract the businesses, visitors and tourists, in addition to creating much-needed local employment opportunities on the scale we are targeting."
The Rail Smart Program will be undertaken in partnership with the Planning and Transport Research Centre (PARTEC), Edith Cowan University, The University of Western Australia, Curtin University, Department of Transport and the Water Corporation.
The Yellagonga Wetlands Smart Sensor Monitoring Program will utilise $2.05 million funding to introduce environmental sensors to manage and protect the Yellagonga wetland system. This innovative use of technology will enable close monitoring of a variety of environmental factors from nutrient and water levels to flora health, acid sulphate levels and environmental triggers for midge outbreaks.
Once established, the Program would assist the City and its partners to respond more quickly to environmental concerns as they arise and inform the community on critical environmental information about the wetlands.
Yellagonga Regional Park is jointly managed by the Department of Parks and Wildlife, City of Wanneroo and City of Joondalup. Land tenure is also vested in the Conservation Commission of Western Australia and the Western Australian Planning Commission. Additional project partners include Edith Cowan University, who will undertake research of nutrient levels, and the Department of Water.
About the Smart Cities and Suburbs Program

The $50 million Smart Cities and Suburbs Program supports local governments, private companies, research organisations and not-for-profit bodies to work collaboratively and deliver innovative smart city projects. The goal is to improve the liveability, productivity and sustainability of cities and towns across Australia.
More at https://cities.dpmc.gov.au/smart-cities-program
More articles in the news archive.