Total fire ban - Wednesday 8 December 2021
DFES has declared a 24 hour TOTAL FIRE BAN for the City of Wanneroo on Wednesday 8 December 2021. The Fire Danger Rating is forecast as EXTREME. Further information
Home
Collaborative forum looks to the future of Yanchep Lagoon
Published Tuesday, 11th December 2018
A three-day planning and design forum on the Yanchep Lagoon area has been facilitated by the City of Wanneroo.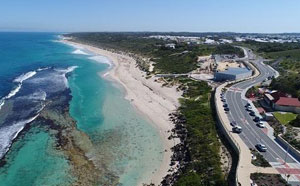 The forum provided community representatives and other stakeholders with a platform to voice their opinions and work cooperatively on shaping the future of this important coastal village.
Run by placemaking consultancy RobertsDay, the extensive planning and design forum brought together local community members, planners, designers, transport advisors and property developers. State Government agencies and representatives from the City of Wanneroo also participated in the process to initiate a clear vision for the Yanchep Lagoon area and address key considerations that were discovered through prior engagement with the community.
A tour of sites, including Fisherman's Hollow, the Mary Lindsay Homestead and other locations around the lagoon area, was followed by a discussion of strategic issues and opportunities on day one of the forum, while day two involved a series of workshops and presentations.
City of Wanneroo Mayor Tracey Roberts said the forum provided participants with a unique opportunity to be engaged in the planning process that will shape the future of Yanchep Lagoon.
"By uniting local community members and key stakeholders from Government and beyond, this forum has ensured all invested parties were able to take part in a practical, collaborative process and directly discuss key issues with one another," Mayor Roberts said.
"There were some key themes and talking points that came out of the forum, including the value that the community shares on the lagoon environment, as well as outlining site constraints, future growth forecasts and highlighting areas of concern that can be addressed cooperatively."
The outcomes of the forum will be presented during a community open house event being held at Splendid Park, Yanchep on Monday 17 December at 6pm. Members of the public are welcome to attend to get an update on workshop outcomes, provide further feedback and track progress.
The forum formed part on an ongoing community consultation and engagement strategy developed by the City of Wanneroo, which started in October. The findings will be reported to Council by mid-2019.
More articles in the news archive.