Local Government Elections 2021 - candidate profiles
To view the profiles of candidates for the upcoming Local Government Election, please visit the Candidate Profiles webpage
Home
Get on your bike, to the City's Bike Week Breakfast
Published Wednesday, 13th February 2019
The City of Wanneroo invites local cyclists to a breakfast at the Wanneroo Civic Centre on 22 March, in celebration of Bike Week 2019 and the recent completion of the City's new Cycle Plan.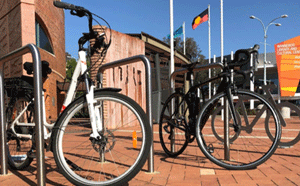 Mayor Tracey Roberts said the aim of the new Cycle Plan was to connect the City of Wanneroo through a continuous cycling network offering safe and enjoyable riding options for residents of all ages and abilities.
"It is all part of the City's commitment to creating opportunities that encourage community wellbeing and active and healthy lifestyles," Mayor Roberts said.
"Cycling is a healthy and environmentally-friendly activity that can be enjoyed by people of all ages," she said.
"I would like to see plenty of people grabbing their helmets, jumping on their bikes and cycling to the Wanneroo Civic Centre for a delicious breakfast with fellow cyclists in celebration of Bike Week."
Currently there are 302 kilometres of existing cycle paths throughout the City of Wanneroo, and more than 82 kilometres of cycle paths will be constructed or upgraded in the next four years as part of the Cycle Plan.
The Plan maps out how the cycle network will link residents to existing and new key transport nodes across the City, including retail and entertainment destinations in Alkimos, Clarkson, Mindarie and Wanneroo, community hubs in Girrawheen and Yanchep and the future Metronet rail stations at Alkimos, Eglinton and Yanchep.
City of Wanneroo Bike Week Breakfast 2019
Date: Friday 22 March 2019
Time: 7am to 9am
Venue: Jacaranda Amphitheatre, Wanneroo Civic Centre, 23 Dundebar Road, Wanneroo, 6065
Breakfast will include a bacon and egg roll or fruit option, as well as bottled water and juices. A coffee van will also be on-site for those who wish to purchase hot beverages. Bicycle parking will also be available.
Registration essential by emailing: traffic@wanneroo.wa.gov.au
WestCycle's Bike Week, supported by the Department of Transport, runs from Friday 15 March to Sunday 24 March.
More articles in the news archive.