Home
Yanchep Lagoon Master Plan enters next phase
Published Monday, 11th March 2019
The draft Yanchep Lagoon Master Plan endorsed at the City of Wanneroo's 5 March council meeting is now set to progress to a six-week public comment period.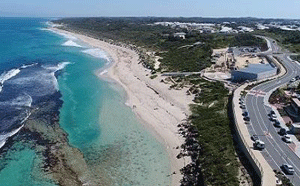 The draft Plan encompasses the Yanchep Lagoon and surrounding areas, from Mary Lindsay Homestead to the north to Fisherman's Hollow in the south.
The Master Plan has been developed by Placemaking consultants RobertsDay following extensive community consultation, including digital engagement and forums with a wide range of stakeholders and local community representatives.
Wanneroo Mayor Tracey Roberts said four key priorities for the area's future became clear throughout the forum: keep it special, keep it natural, keep it local and keep it simple.
"Yanchep Lagoon is a very special part of the City of Wanneroo," Mayor Roberts said. "This Master Plan puts forward a combined community vision for the area that carefully considers the environment and ensures its unique natural beauty is retained and protected.
"The draft Master Plan has so many fantastic ideas and exciting elements such as carefully considered dune walking trails, improved beach access, a lookout jetty, large grassed areas with shelter and BBQ facilities, coastal boardwalks and pop-up cafés, markets and retail spaces."
A key element of the Master Plan is to enhance the unique natural features of the area and protect visitors from the weather conditions that the site experiences.
The public comment period is now open and will close Friday 19 April, allowing time for further feedback from the general public.
The draft Master Plan can be viewed and commented on via the City's website at wanneroo.wa.gov.au/yancheplagoon.
Concurrently, the City is preparing a Foreshore Management Plan, which will be submitted to relevant State Government departments for approval to enable the first stages of development.
Further to this, the City is introducing a new approach to identifying local priorities called Local Area Planning, and is currently engaging with the community to develop a Local Area Plan for all of Yanchep and Two Rocks.
This will complement the work that has been put into the Yanchep Lagoon Master Plan, shaping the future of Yanchep Lagoon.
More articles in the news archive.