COVID-19 recovery information and updates
The City of Wanneroo is reopening a number of community services and facilities in line with Phase 3 of the State Government's COVID-19 Roadmap to Recovery. Click here to find out more
Home
City celebrates National Reconciliation Week and NAIDOC Week 2019
Published Thursday, 16th May 2019
The City of Wanneroo will hold a series of community events celebrating Aboriginal and Torres Strait Islander history, language and culture for National Reconciliation Week and NAIDOC Week 2019.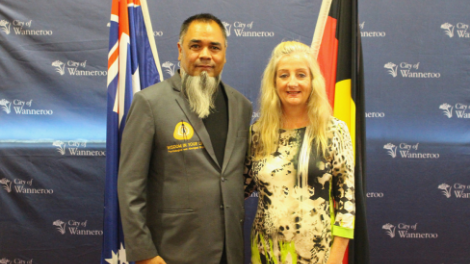 National Reconciliation Week takes place from 27 May to 3 June, while NAIDOC Week runs between 7 to 14 July.
City of Wanneroo Mayor Tracey Roberts said both national events provide the opportunity for Australians from all backgrounds to contribute towards a unified future and aligned with the City's Reconciliation Action Plan 2018/19 – 2021/22 to improve relationships, opportunities and respect.
"The City of Wanneroo is proud of its Aboriginal heritage and is committed to recognising and celebrating the traditional owners of the land," Mayor Roberts said.
"This is a time to celebrate the history, culture and achievements of Aboriginal and Torres Strait Islander people, and to explore how each of us can contribute toward achieving reconciliation."
As part of National Reconciliation Week, the City will host a free Cultural Conversation workshop for all community members.
Community leader Shaun Nannup will take participants on an inspiring journey through aspects of Noongar culture via storytelling in his Cultural Conversation workshop, that will be held at Butler Community Centre on Tuesday 28 May at 6pm. Bookings are essential through the City's website.
For NAIDOC Week, the City will hold a flag raising ceremony for all community members and a series of fun, cultural events for children of all ages.
The City's official flag raising ceremony will be held at the Wanneroo Civic Centre at 9am on Friday 12 July and will be followed by a Wandjoo (Welcome) Workshop hosted by Sharon Gregory. The workshop will cover the importance of keeping Noongar language and culture alive.
The award-winning Madjitil Moorna choir will also perform two songs during the ceremony.
"A Welcome to Country will be performed and the Aboriginal and Australian flags will be raised side-by-side on the Civic Centre flag poles - a symbol that we all stand together as Australians," Mayor Roberts said.
"I hope that residents will join us for the ceremony and the interactive activities we have planned for NAIDOC Week."
A free session of It's All About Stories centred on Aboriginal stories will be held for preschool age children and their parents in the Clarkson, Wanneroo and Girrawheen libraries between 2 to 5 July.
Explore Noongar Art Workshop is a free event to be held for young people aged 10 years and over at Yanchep Library on Thursday 18 July.
Explore Noongar Song And Dance is a free, interactive workshop for children aged 5 to 12 years and will be held in the Clarkson, Wanneroo and Girrawheen libraries between 11 to 18 July.
Flora and Fauna Fun Day and Lunch costs $10 and will involve a tree planting session in Middleton Park followed by lunch at Hainsworth Youth Centre in Girrrawheen. To be held on Wednesday 10 July, this event is for children aged 9 to 16 years and includes bus pick up and drop off across four locations.
Bookings via the City's website are essential for all events, apart from the flag raising ceremony.
Visit the City's event calendar for more information at wanneroo.wa.gov.au/events.
More articles in the news archive.