COVID-19 recovery information and updates
The City of Wanneroo is reopening a number of community services and facilities in line with Phase 3 of the State Government's COVID-19 Roadmap to Recovery. Click here to find out more
Home
Scholarship offers Jarrod a sporting chance
Published Monday, 27th May 2019
Carramar resident Jarrod Criddle was the recipient of the City of Wanneroo Young Australia League (YAL) Upper Secondary Scholarship for 2019.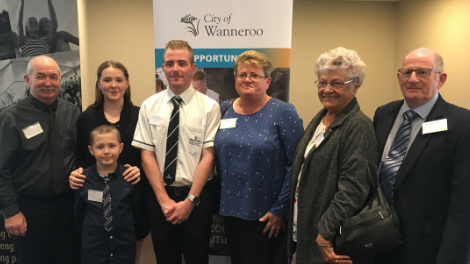 The scholarship, offered to City of Wanneroo residents in years 10 to 12 affected in some way by inequity or disadvantage, has been run in partnership with YAL since 2016.
A passionate footy player and student at Joseph Banks Secondary College, Jarrod was diagnosed with Severe Aplastic Anaemia (bone marrow failure) in November 2016. A bone marrow transplant offered his only chance of survival; fortunately, Jarrod's younger brother was a match and Jarrod began the process of aggressive chemotherapy and isolation before the transplant could be undertaken.
Due to his treatment, Jarrod missed large amounts of school and football training. Twenty-three months post-transplant and with his passion for AFL as strong as ever, Jarrod is working hard to make up for lost time and continue with his schooling.
The $3000 scholarship will help Jarrod fund a tutor during Year 12, and he hopes to combine his love of AFL, fitness, strength training and working with children with disability to achieve his goal of entry to Edith Cowan University's Bachelor of Sports Science course.
City of Wanneroo Mayor Tracey Roberts said local government had a role to play in shaping the leaders of tomorrow, which started with providing access to great education and employment opportunities.
"The City of Wanneroo is dedicated to supporting our young people and improving their education," Mayor Roberts said.
"This scholarship and ongoing partnership with YAL is just one of the many ways the City of Wanneroo is making a difference to the lives of our residents.
"The grit and determination Jarrod has displayed during the challenges he has faced makes us confident he will achieve great things in the future."
The scholarship will be offered again in 2020 to a student in years 10, 11 or 12 who has shown enthusiasm for furthering their education and is facing financial or situational barriers. City of Wanneroo residents can submit expressions of interest for the annual Upper Secondary Scholarship via the YAL website: www.yal.org.au/scholarship.
More articles in the news archive.