COVID-19 recovery information and updates
The City of Wanneroo is reopening a number of community services and facilities in line with Phase 3 of the State Government's COVID-19 Roadmap to Recovery. Click here to find out more
Home
Long-term plan turns the tide on coastal erosion
Published Tuesday, 28th May 2019
Ongoing erosion of the Quinns Rocks coastline over a number of years has been alleviated thanks to long-term coastal management works conducted by the City of Wanneroo.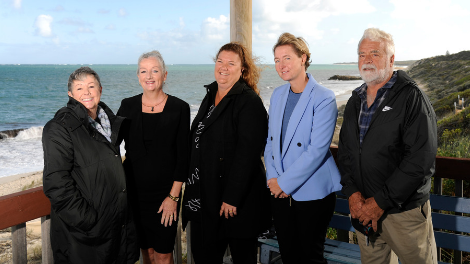 Winter storm conditions have caused substantial wear and tear to the foreshore for a number of years, with sand movements causing the beach to slowly recede over time.
The City of Wanneroo stepped in to save the shore, with an initial coastal management study and a comprehensive community engagement process starting back in 2014. Following this, the Quinns Beach Coastal Management Works have been included in the City's Capital Works Program since 2017/18.
Vicki Jenkins, a local resident and member of the Quinns Beach Long Term Coastal Protection Community Reference Group, said action was imperative to preserving the pristine coastline.
"When I first moved to the area, this beach was a lot higher and a lot wider. Erosion is a very gradual thing, and I'm glad the City of Wanneroo is defending our coastline by continuing to monitor and manage these coastal issues."
City of Wanneroo Mayor Tracey Roberts said the multi-million dollar project was a significant one in the City's efforts to combat coastal erosion.
"This project has already had a measureable mitigating effect on sand movements and erosion along the Quinns Rocks coastline, and we are confident these works and those to come will help the City manage the ongoing coastal erosion issues."
The construction and extension of groynes have enabled additional sand to be trapped between them, resulting in a wider beach and an improved buffer against erosion.
The installation of a ramp has improved beach access for maintenance vehicles, while extensive beach renourishment and dune rehabilitation works have also taken place.
Stage one of the coastal management works were completed in June 2018 at a cost of almost $2.3 million, while stage two works were completed in March of this year at a cost of approximately $2.8 million.
Stage three construction will commence in October this year, continuing into early 2020.
More articles in the news archive.