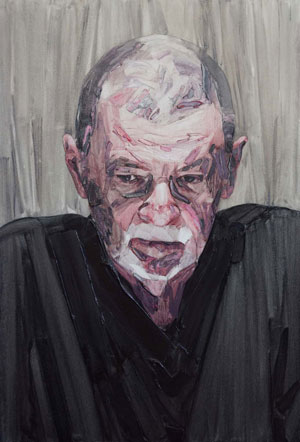 Art of the Month - March 2021
Title: I faced reality a long time ago #2 by Mark Tweedie
Medium: Oil on canvas
Family bonds and interpersonal stories form the foundation of artist Mark Tweedie work. Loved ones battling ageing, fading health and facing their own mortality, are enduring narratives.
The subject of this work is of a much loved family friend, who is facing his own mortality. Ultimately Ken expressed to Mark three concise questions: "who have I been?", "where am I going?" and "what am I leaving behind?"
Public Art of the Month - February 2021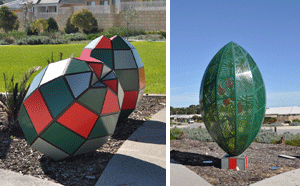 Title: Zamia by Lorenna Grant
Medium: Polycarbonate, steel and paint, composite sheet
Location: Zamia Park, Zamia Rise, Yanchep
The Zamia artworks are inspired by, and pay tribute, to the original plant – a cycad – after which the suburb of 'Zamia' is named.
The artworks are representation of certain aesthetic design elements of the ancient plant only found in Western Australia. The Cycad originated here from an unimaginable backward distance in history. It is thought they have been here for 200 million years and their bright orange seeds distributed through the grazing of the mega fauna, a task now reserved for the emu. collection
The artworks are laser cut painted aluminium and polycarbonate and the two smaller artworks are composite and aluminium. The main artwork interprets these plants as intricate containers for our precious ancient history and the smaller artworks another impression of unrealised potential – as are all seeds.
Public Art of the Month - January 2021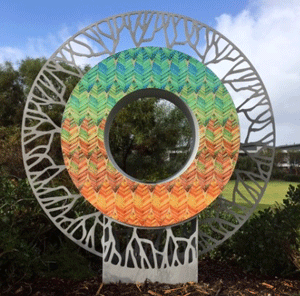 Title: Branched by Leanne Bray
Medium: Sandblasted aluminium and digitally printed tempered glass
Location: Seeadler Park, Clarkson (Catalina Estate)
The sister work to 'Furled' this work continues the approach to a holistic community. Likewise embracing the concept of a 'positive meeting place' and creating a bold, clear statement that activates the gathering place and adds to the local aesthetic.
With the notion of 'beach to bush' as a theme, (for both works) the circle has become transformed and the surrounding framework represents the organic branching of the family tree. The lighter open framework, embracing and contrasting with the stability of the solid form.