Know Your Neighbour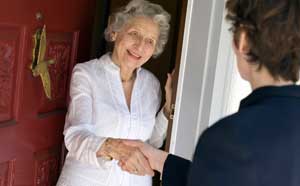 The first step to creating friendlier and safer neighbourhoods is getting to know the people in your local area. Know Your Neighbour is about turning strangers into neighbours and streets into neighbourhoods. Hosting a Know Your Neighbour event can help everyone put names to faces, discover common interests and handy skills to share. It's a chance to get connected in your community and make your neighbourhood a friendlier and safer place to live.
Getting started
It's simple really! Your event can be as big or small as you like. It doesn't need to cost much because you can invite everyone to bring something. People are the key ingredient. It could be a BBQ, drink, a cuppa, picnic or even a cricket match! Host it at your house, in your front yard or at the local park.
Register your event by using our online form. You can use the invite template provided, or ask us to send you some printed ones (see contact details below). More resources are available at the bottom of this page to help make your event a success.
Invite your neighbours and enjoy getting to know each other at your event. Remember to take some photos and let us know how you went.
Spread the word! Encourage others to host their own Know Your Neighbour event. More events mean more people are connected in your neighbourhood.
For further information please contact the Connected & Resilient Communities team at: connectedcommunities@wanneroo.wa.gov.au or call 9405 5916.
Useful resources
Neighbour Day is Australia's annual celebration of community, encouraging people to connect with those who live in their neighbourhood. This special day occurs every year in March.
Go to http://www.neighbourday.org/ for some great tools and ideas to help you connect with your neighbours.
Further information and support
If you need more information or would like to talk about ideas for your event, call the Connected & Resilient Communities team on 9405 5916 or email: connectedcommunities@wanneroo.wa.gov.au
Know Your Neighbour registration form
Know Your Neighbour contact sheet
Know Your Neighbour information sheet
Know Your Neighbour invitation
Please Note: Know Your Neighbour gatherings held at a park within the City of Wanneroo will need to be registered with the Community Facilities Booking team. Some events may also require a formal Event Application to be submitted a minimum of six weeks prior. Please contact the Connected & Resilient Communities team on 9405 5916 or email: connectedcommunities@wanneroo.wa.gov.au team to discuss the requirements for your event.