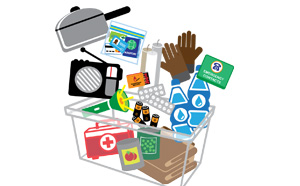 Having an emergency kit is an important step to prepare and protect your household for an emergency such as a bushfire.
Keep your Emergency Survival Kit in a storage container in a location that is easy to get to and where the whole family knows about.
Things to include in your kit are:
Portable battery operated AM/FM radio
Waterproof torch
Spare batteries
First aid kit with manual
Candles with waterproof matches
Woolen blankets
Emergency contact numbers
Don't forget to prepare for your pets as well.
Ensure your pet is wearing an identification tag
If you're leaving take a leash, basket, medication, food and a familiar toy
For more information:
Visit the DFES website
Contact DFES Community Engagement on 9395 9816
Having items put aside can increase self-reliance and decrease the stress and panic that can be overwhelming when faced with an emergency. If you do already have an emergency kit, make sure you check it over and ensure everything is up to date and working properly.