Buckingham House & the Old Wanneroo School House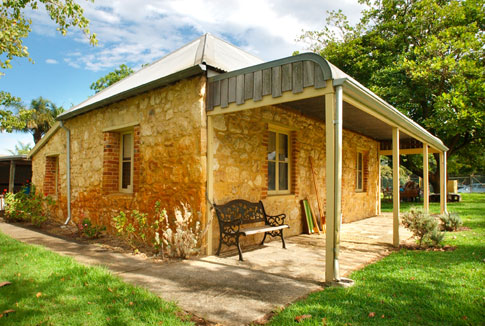 Please note:
Buckingham House education bookings for 2019 will open for City of Wanneroo schools from September 2018 onwards. Other schools may book from November 2018 onwards.
For further inquiries please contact 9405 5904
Built between 1880-1890, Buckingham House was home to John and Amelia Buckingham and their seven children. As graziers, their home was well situated close to Lake Joondalup to access water for their cattle and vegetable gardens. John Buckingham was an active member of the Wanneroo community and donated five acres of land and £5 to the Education Department in 1898 for a school to be built in the area. Years later, Buckingham House was resided by other prominent Wanneroo families including the Ashby family and George Tapping.
In the 1940s, Italian migrant family the Tognos took over the property and established a successful dairy and maize crop. The Neville family continued the dairy business in the 1950s and 1960s before it was sold for the establishment of a Wanneroo housing subdivision. The City of Wanneroo acquired the home in the 1970s. Following careful restoration, it was officially opened as a heritage homestead for the community to enjoy and to learn about the Wanneroo of old.
Virtual Tour
School groups
Tuesday & Thursday 9:00am - 12:pm
For more information:
Phone: (08) 9405 5920
Email: naomi.hoyle@wanneroo.wa.gov.au
Location
Drop off area
Closest is at the main gate on Neville Drive. Alternatively, buses can stop at the parking area on Scenic Drive and passengers can walk across Neville Park to the rear gates (adjacent to the schoolhouse).
Entry/access
The front section of Buckingham House is wheelchair accessible from the front entrance although larger electric wheelchairs may not fit through the front door. There is a step down from the lounge to the kitchen, and a shallow step from the kitchen to the back area. Access behind the house and to the schoolhouse is via path. The schoolhouse has ramp access.
Trained Guide or Assistance Dogs
Visitors accompanied by a Trained Guide or Assistance Dog or a dog undergoing such training are welcome in this site.
Toilets
The male and female toilets are both wheelchair accessible.
Education program
Year 2/3 - A day in the life of the Buckingham family
Students participate in activities that replicate the chores, schooling and diet of the Buckingham family. Instructed by engaging volunteers, student cook damper in the Buckingham kitchen; do a spot of sewing in the Buckingham sitting room; attend a lesson in the Old Wanneroo School House; learn how to milk a cow; and do some pioneer style washing. Morning tea is supplied as well as pioneer games to continue the heritage theme during recess.
For more information contact Naomi Hoyle - Community Learning Officer
Phone: (08) 9405 5904
Email: naomi.hoyle@wanneroo.wa.gov.au
Buckingham House education resources
Buckingham House open days
Buckingham House is open to the public during special events throughout the year for the community to learn more about the Buckingham family and the early history of Wanneroo.
Check the City's events calendar by clicking below for upcoming events.
Buckingham House and the Older Wanneroo Schoolhouse
10 Neville Drive, Wanneroo
(Parking in Neville Park off Scenic Drive)
For more information contact Naomi Hoyle - Community Learning Officer
Phone: (08) 9405 5904
Email: naomi.hoyle@wanneroo.wa.gov.au