Home
City of Wanneroo welcomes Bill Shorten's $108m Romeo Road pledge
Published Wednesday, 11th April 2018
The City of Wanneroo has applauded today's announcement by Federal Labor Leader Bill Shorten of a $108 million funding commitment for the extension of the Mitchell Freeway if Labor are successful at the next election.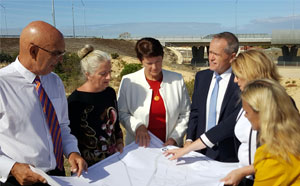 With the City of Wanneroo's population expected to surpass 400,000 over the next two decades, the extension of the freeway through to Romeo Road, Alkimos remains the primary advocacy focus.
"This is a very welcome announcement for the City of Wanneroo, its residents and businesses," Mayor Tracey Roberts said.
"We have been strongly advocating for the extension of the Mitchell Freeway through to Romeo Road for a number of years.
"Delivery of this desperately needed infrastructure will unlock the economic development potential for the region and connect residents in our most northern suburbs of Alkimos, Yanchep and Two Rocks to the greater Perth area.
"This Northern Coastal Growth Corridor alone is expected to welcome 85,000 more residents over the next 18 years, representing more than half (53 per cent) of the City's total expected growth.
"We are aware that improved infrastructure will deliver much needed local jobs, therefore we look forward to the timely approval of the business case, allocation of funding, and successful delivery of this important project."
This morning's announcement follows last month's release of Infrastructure Australia's latest annual report which highlighted the need for the State and Federal governments to invest in key congestion-busting projects; including further extension of the Mitchell Freeway north and extension of the Joondalup rail line to Yanchep.
More articles in the news archive.