Home
City's oldest remaining residence, open for visitors
Published Tuesday, 1st May 2018
The City of Wanneroo's oldest remaining residence, Cockman House, opens its doors to heritage loving visitors every Sunday afternoon.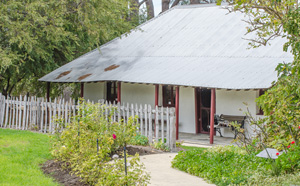 Built by James Cockman and completed in 1860, Cockman House holds a special place in Wanneroo's rich history as the home of one of its earliest settler families.
Visitors can pack a picnic to enjoy on the beautiful grounds and play some old fashioned games including quoits and skittles.
No visit would be complete without a tour of the historic building to gain a fascinating insight into the lives of the pioneering Cockman family.
Mayor Tracey Roberts said the State Heritage Registered building has been in the City's care since 1987, operating as a museum since 1989.
"Cockman House provides a fantastic opportunity for people to see what life was like in the Wanneroo district during the late 1800s and early to mid-1900s," Mayor Roberts said.
"The City is extremely proud of our pioneering history and Cockman House serves to remind us about the hardworking families who helped establish the City of Wanneroo as we know it today."
Sundays at Cockman House:
Sunday afternoons / 2pm – 5pm
Cockman House, Ocean Reef Road, Woodvale
Free entry but a gold coin donation is appreciated.
Suitable for all ages.
For more information visit the Cockman House webpage.
More articles in the news archive.