Home
City of Wanneroo engages industry leaders to help bring 100,000 jobs to the table
Published Thursday, 14th June 2018
The City of Wanneroo's 2018 Job Summit put some of the country's best decision makers and industry leaders in one room to define a clear vision for jobs growth in the region.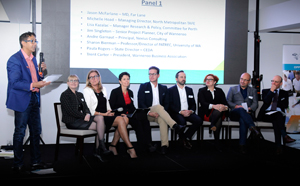 The full day Summit, held on Thursday 7 June at Mindarie Marina acted as a think tank for some of Australia's most forward thinkers from government, to education to industry.
Discussions revolved around how the City could leverage its current economic state and rapidly growing region to create sustainable employment opportunities for the community.
City of Wanneroo Mayor Tracey Roberts officially opened the Summit to more than 150 attendees.
Guest speakers from across the country went on to deliver facts and data around unemployment rates, education levels and workforce trends of those living in the City of Wanneroo, providing a compelling platform to consider.
"By harnessing the combined intel and knowledge in the room, we were able to identify current and future transformational opportunities for the City of Wanneroo," Mayor Roberts said.
City of Wanneroo Chief Executive Officer Daniel Simms explained the significance of the event.
"This Jobs Summit is all about realising the opportunities and challenges which define the City's unique point of difference that will attract developers, investors and entrepreneurs to build and work in the City," Mr Simms said.
In the afternoon the Summit introduced a series of breakout and panel sessions which invited attendees to collaborate and forge new pathways for the City to reach the goal of creating 100,000 jobs within the City of Wanneroo.
Five key themes drove discussions which included strategic land use planning, innovation, Smart Cities, research and development, the Neerabup Industrial Estate, agribusiness and place development and management.
"By optimising land use and analysing the potential for job opportunities in upcoming infrastructure development, we can look to reach our 100,000 jobs target while creating vibrant, prosperous and progressive communities," said Mr Simms.
Keynote speakers and panellists included; Paula Rogers, State Director, Committee of Economic Development of Australia; Brandan Wright, Vice President Public Services, SAP; Wendy Newman, Chief Executive Officer, Wheatbelt Development Commission.
Background:
The Summit is shaped on five themes critical to jobs growth in the City:
Land use planning – What is our vision and point of difference for Yanchep and Alkimos Centres? What do we want to do differently from business-as-usual?
Innovation, Smart Cities and Research and Development – How can Wanneroo lead innovation within the Smart Cities context?
Neerabup Industrial Area – The Neerabup Industrial Area is projected to create 20,000 jobs. What do we want to do differently to achieve this?
Agribusiness – How do we support the agribusiness industry though transformation?
Place development and management – How should the new Wanneroo Placemaking Framework be enacted?
More articles in the news archive.