Home
The winner of the People's Choice Award in the City of Wanneroo's 2018 Community Art Awards and Exhibition is Leesa Padget.
Published Friday, 29th June 2018
Leesa will take home a prize of $600 for her mixed media piece, titled Riches Beyond Your Wildest Dreams.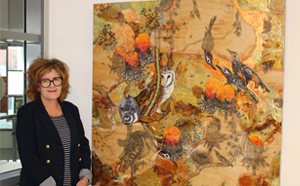 Leesa's artwork is on ply board and is a combination of resin, paint and very expertly rendered drawings in graphite. Leesa is a hills-based artist from Mount Nasura and produces works in mixed media, on paper, canvas and board. Many of her pieces are centred around the natural environment and regularly involve the use of found objects, creating an eclectic range of paintings and small sculpture.
In the City of Wanneroo's 2017 Community Art Awards and Exhibition Leesa won the sculpture category for her clay and plaster sculpture of a kangaroo titled Jump Start.
At the heart of Leesa's artwork is storytelling. Leesa provides space within the narrative of her works to prompt the exploration of the viewers' own experiences.
Click below to view all of the winners from the 2018 Art Awards.
More articles in the news archive.