COVID-19 update - Friday 7 May 2021
Information on the current transitional restrictions for City of Wanneroo facilities can be found on our COVID-19 information page. Further information
Home
Events on 3rd May 2021
Events for 3rd May 2021
Showing 1 to 1 of 1 events.
Untreasured: Hidden gems from the Wanneroo Community History Collection
Date: 3rd May 2021
Location: Wanneroo Museum, Wanneroo Library and Cultural Centre, 3 Rocca Way, Wanneroo
Time: 10:00 - 11:30
Cost: FREE - bookings essential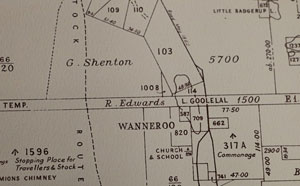 The Wanneroo Community History Centre holds over 7,000 different items, including images, books, documents, manuscripts, and audio.
As part of the Heritage Festival 2021, join our Heritage Team in uncovering and discovering some of the gold nuggets and gems that make up this hidden world of archives. Learn about the colorful history of Wanneroo, seen through the eyes of our early settlers and often donated by the wider community. Light refreshments provided.
May 2021

Prev month Next month

The green box highlights today's date and the dates with buttons have events happening on that day.

| Mo | Tu | We | Th | Fr | Sa | Su |
| --- | --- | --- | --- | --- | --- | --- |
| | | | | | 01 | 02 |
| 03 | 04 | 05 | 06 | 07 | 08 | 09 |
| 10 | 11 | 12 | 13 | 14 | 15 | 16 |
| 17 | 18 | 19 | 20 | 21 | 22 | 23 |
| 24 | 25 | 26 | 27 | 28 | 29 | 30 |
| 31 | | | | | | |
Discover more events