Current Exhibitions

Happy Birthday Play School: Celebrating 50 Years
When: Wednesday 26th May 2021 to Saturday 9th October 2021 // Wednesday – Saturday // 10:00am to 4:00pm (closed Sundays and Public Holidays)
Where: Wanneroo Gallery, Wanneroo Library and Cultural Centre, 3 Rocca Way, Wanneroo
Cost: Free (walk-in). Group bookings can be made via email: museum@wanneroo.wa.gov.au or phone: 9405 5920
The Play School TV show has captured the hearts and minds of generations across the world. As the longest running children's program on Australian TV, Play School is now celebrating its 50th birthday!
Did you know...
Play School first aired on 18 July 1966.
Presenter Benita Collings recorded the highest number of episodes – 401!
When colour TV launched in 1975, the Play School set was altered and the rocket clock debuted.
Come inside, it's Play School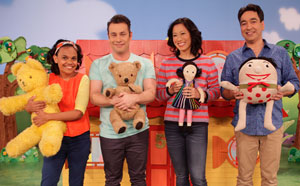 The City of Wanneroo Gallery is proud to host the iconic touring exhibition, where you get to explore significant artefacts from the show that span across 50 years. See your favourite characters as you travel through time via historical props from the show, including the original windows, the rocket clock and flower clock.
The show continues to air each day and capture the imagination of children, inspiring them to learn, wonder and explore.
The Happy Birthday Play School exhibition is brought to you by the National Museum Australia, in collaboration with the ABC.