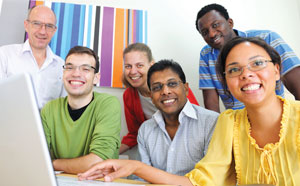 Dear Girrawheen Hub users and visitors
Please note that the Girrawheen Hub is closed until further notice.
This outcome is based on the latest advice from the Federal and State Governments and the Department of Health WA, as we all work together to keep our community safe and healthy.
I understand these changes will cause inconvenience for some, but the health and safety of our Hub users, employees and wider community is paramount and we appreciate your support.
If you require further information please email girrawheenhub@wanneroo.wa.gov.au or call 9405 5000.
Please visit the City's COVID-19 page for up to date information on affected City services.
Kind regards
Nick Stawarz,
Manager, Place Management
The Girrawheen Hub has been established by The City of Wanneroo to assist community members with job readiness skills and help local small businesses to grow. The Hub is the perfect place for individuals and groups to meet, learn, network and provide support to one another.
The Girrawheen Hub gives opportunities and services with:
Workshops to help you succeed in small business
Practical assistance to improve your job-readiness
Small business incubator spaces
Room hire for skills-based training and activities
City of Wanneroo services to assist with local planning enquiries (Wednesdays only)
Financial Counselling (by appointment only)
Conveniently located at 11 Patrick Court, Girrawheen (behind the Girrawheen Library), the Hub has free parking and is serviced by Bus Route 365
For more information on programs, workshops and room hire contact the friendly Hub staff on 9405 5344 or at girrawheenhub@wanneroo.wa.gov.au.