Personal training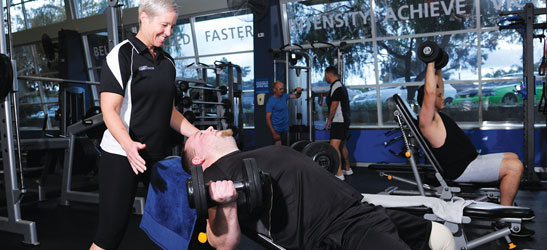 Aquamotion's personal training packages are the perfect way to kick start your health and fitness journey or boost your existing exercise regime. Our highly qualified and experienced personal trainers aim to provide you with motivation, knowledge, structure and focus that will assist you to achieve your health and fitness goals.
As part of your personal training package you will receive a personalised handbook where you can record your personal information as well as obtain nutritional information, meal plans, food and exercise diaries, information on goal setting, healthy recipes and much more.
3 sessions - Special introductory offer - $99.95
5 sessions - $265
11 sessions, buy 10 get 1 free - $470
5 sessions for two clients - $190 per client
11 sessions, buy 10 get 1 free - $360 per client
Sessions are 30 minutes long.
Contact us to book a personal trainer by phoning 9405 5999 or email: wannerooaquamotion@wanneroo.wa.gov.au
Meet our trainers

Justine

Biography

Regular exercise nowadays is just as important in maintaining a healthy body as it is a healthy mind. Over my several years of professionally working in the fitness industry I have seen people of all ages benefit from attending the gym consistently, even if it is just twice a week.

Training methods/styles have progressed steadily where a 30-60 minute workout including a combination of cardiovascular and weights exercises can achieve results beneficial to the individual functioning of daily life. Let me show you how you can be strong in body and mind by training effectively and efficiently in half the time.

"Train hard in silence, let your results be your noise."

Specialities

Toning, shaping and core strength
Functional training individually or in small groups
Circuites/HITT
Women's weights/resistance training

Qualifications

Gym Instructor (Cert 3 Fitness)
Personal Trainer (Cert 4 Fitness)
MetaPower Coach
RIP 60 Suspension Training instructor
Advanced THUMP Boxing Accredited
Blackroll Accredited
HBF/Your Move Group Fitness instructor
Aqua (shallow and deep water) Accredited
Fundamentals of Mobility for Functional Training qualified
Level 1 Kettlebell Course


Simon

Biography

I love the challenge training provides each person because it's individual… 'You Vs You'.
As a personal trainer I am constantly researching and keeping up with current fitness trends, which I trial prior to prescribing. I strive to help each of my clients reach their maximum potential and love seeing them achieve their goals. My mission is to educate to provide confidence and knowledge!

"Fun + Progression = Obsession"

Specialities

Strength and conditioning
Muscle building and weight loss programs
Group training
Rehab and spinal cord injuries

Qualifications

Certificate III and IV in Fitness
Advanced boxing instructor
CertificateClinical Practicum for Spinal Cord Injuries
Weightlifting/Sport Power Coach
RIP 60 Trainer
Level 1 Sport and Exercise Science Certificate
Level 1 Strength and Conditioning Coach
Level 1 Kettlebell Course

Geri

Biography

My passion for fitness really began when I moved to Australia 11 years ago. Inspired by the outdoor lifestyle here, I turned this passion into my career and have now been helping clients to change their lives for 9 years. I believe that with consistent effective exercise, good nutrition and a positive mindset anyone can reach their goals. Everyone is different with different needs, and this is where personal training with support and encouragement can make all the difference.

"All our dreams can come true, if we have the courage to pursue them"

Specialities

Nutrition and weight management
Functional Training and HIIT
Small group training
Pre and Post Natal training

Qualifications

Cert III Fitness - Gym Instructor
Cert IV Fitness - Personal Trainer
Kettlebell Level 1 Instructor
Suspension Essential and Med Ball Essential Trainer
Accredited Certificate of Nutrition
Exercising for Two - Pre and Post Natal
Current First Aid and CPR

Vicki

Biography

I believe in a holistic approach to health and fitness, by having a balance between exercise, mental / emotional wellbeing, and nutrition. It is when all these are addressed and balanced that we are able to live a healthy and fulfilling life. I also believe it is important for your exercise and nutrition to fit into your lifestyle so it is something you can do for life. I want to empower you by sharing my knowledge and experience from my 10 years in the health and fitness industry to help you to live the life you want, to love your training sessions, achieve your goals and to have fun doing it.

"Fitness is about so much more than exercise. It's a catalyst for positive changes, and it affects every aspect of your life."

Specialities

Functional Training
Women's Fitness and Weight Management
Pre and Post Natal training
Injury Prevention and Rehabilitation Support

Qualifications

Level 2 Fitness Australia Registered Professional
Gym Instructor (Cert III Fitness)
Personal Trainer (Cert IV Fitness)
Children's Trainer
Rip 60 Suspension Training Instructor
Fundamentals of Mobility for Functional Training qualified
Level 1 Kettlebell Course
Provide First Aide Certification
CPR Certification