Youth Centre activities & excursions

Appropriate social distancing, hygiene and parent/guardian contact details are required to participate.
Proof of Age: all bookings must ensure that the correct birthdate for each child is entered, and must upload appropriate proof of age document for each child to confirm a booking (see below). You will not be able to proceed with booking until this step is finalised.
Accepted proof of age documents include: birth certificate/extract, school registration, passport, student card etc.
There is the option to upload proof of age to the online application or you can email it to youth.services@wanneroo.wa.gov.au
Terms and Conditions
Please click below to view our Youth School Holiday Program terms and conditions.
Youth Trailer - Landsdale Skate Park - all ages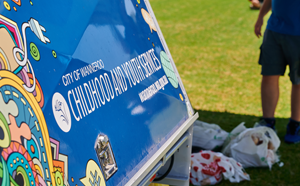 When: Tuesday 11 April 2023 // 11am to 2pm
Where: Landsdale Skate Park, Warradale Terrace, Lansdale
Cost: FREE
The Youth Trailer will be in Landsdale, bringing along with it giant games, Just Dance on PlayStation and much more. The team will be cooking up some burgers for young people to create their own delicious masterpiece.
This is a free event for all ages.
Bookings not required!
Wheelie good afternoon with Rebound WA - all ages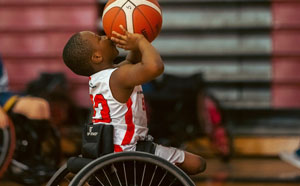 When: Wednesday 12 April 2023 // 3:30pm to 5:30pm
Where: Alkimos Forestay Park, Alkimos
Cost: FREE
Be sure to head to Forestay Park in Alkimos for the final session of Wheel Chair Basketball with REBOUND WA. Learn some great new skills and challenge your abilities and friend with mini competitions.
This is a free event for all ages! Bookings not required!
Youth Trailer Park Day with art and giant games - all ages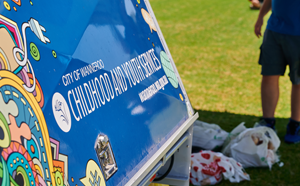 When: Thursday 13 April 2023 // 11am to 4pm
Where: Frederick Duffy Park, 16 Mudalla Place, Wanneroo
Cost: FREE
Join the City's Youth Team along with the Youth trailer, for an enjoyable afternoon at Frederick Duffy Park ! Prepare yourself for a fun day of art, giant games and a sausage sizzle.
This is a free event for all ages.
Bookings not required!
Celebrating Youth Week in Yanchep - all ages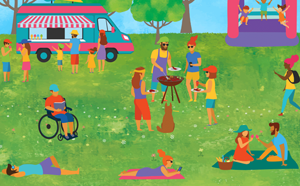 When: Friday 14 April // 11am to 2pm
Where: Splendid Park, Yanchep
Cost: FREE
Youth Week 2023 runs from 14-21 April and is the biggest celebration of young people on the Western Australian youth calendar. The City's young people, together with the Childhood and Youth Services team bring you this free Youth Week community event, focusing on how amazing young people are, and to celebrate their skills, drives and dreams.
Head to Splendid Park for free activities including, amusement games and inflatables, chill out zone, outreach trailer, competitions, food and music!
Art in the Park - all ages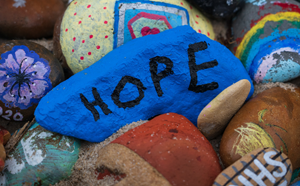 When: Monday 17 April 2023 // 2pm to 5pm
Where: Hinckley Park, Hocking
Cost: FREE
Celebrating Youth Week at Hinckley Park, Hocking; will be having Helping Minds running an art program between 2pm and 5pm on the 17th April. The City's Youth Team will be there with GIANT games and a FREE sausage sizzle. Have a relaxing afternoon at the park with some friends.
This is a free event for all ages!
Bookings not required.
Easter baking fun - ages 9 to 11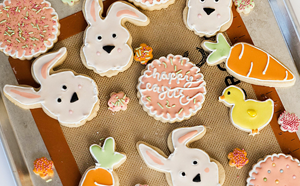 When: Tuesday 18 April // 9:30am to 2:30pm
Where: Pearsall Community Centre, 125 Willespie Drive, Pearsall
Cost: $12
Easter baking fun as part of Youth Week in Pearsall. Baking Chicks in Nests, 5-ingredient marshmallow slice, Easter bunny cupcakes and Origami Easter cards will be on the Easter schedule this baking program ! Prepare to indulge in all the baking goodness with your friends, with plenty to share with your family.
Please BYO Lunch on the day.
North Coast Arts - Level Up - ages 14 to 20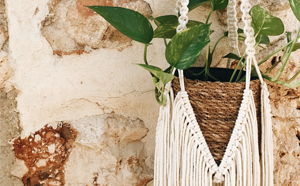 When: Wednesday 19 and Thursday 20 April 2023 // 10am to 2pm
Where: Butler/Mindarie
Cost: $40 for two day workshop
Ignite your passion for art as a career pathway during Youth Week!
Do you have a passion for Jesmonite and Macramé art or would you like to learn all the ins and outs of these crafts? During the North Coast Arts Festival, Crafty Threadz and Gemma Michelle Art will be running the 2-day work shop creating different pieces of art work alongside teaching you the techniques and starting your own business.
Over the 2-days you will learn about the materials used during the art sessions and what other materials you can use to make a macramé plant hanger and lanyard keyring and 3 pieces of Jesmonite "terrazzo" homewares.
19 and 20 April.